EFIKASI DIRI KADER ANTI PENYALAHGUNAAN NARKOBA BERBASIS PELAJAR DI SMA SURABAYA
Rima Diana Nurrilla

Departemen Promosi Kesehatan dan Ilmu Perilaku Fakultas Kesehatan Masyarakat Universitas Airlangga
Abstract
Drug abuse has increased each year and and has spread to adolescents who are still in school. Goverments city of Surabaya issued  preventive drug abuse policies (Perwali) Number 65 of 2014about policies and strategies for the area in the field of prevention, combating drug abuse and illict drugs (P4GN). One of the priority programs of the Government of the city of Surabaya is forming student-based cadre. The formation of drug abused student-based cadre is a form of social reinforcement among students. The purpose of the research is to find out academic self efficacy of drug abused student-based cadre in Surabaya High School. This research is descriptive research with using qualitative approach. The results showed that self efficacy of drug abused student-based cadre can be seen through the dimension level, the dimension of generality, and dimensions of strenght. Dimension level faced cadres was considered patronizing by friends, many of friends are less open regarding their problems , and  the issue abaout time management.The dimension of generality is obtained because the respondents consider they are able to carry out his duties as motivate friends, discussions, sharing drug-related information to a friend, an extension of the hand counselor teacher and positive activities that lead to prevention drugs. The dimensions of the strenght that is owned by the respondent based on some of the things that is add to the experience and insights, like to help friends, fighting drugs and because chosen to represent the school.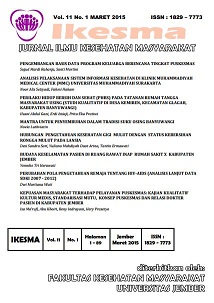 Authors who publish with this journal agree to the following terms:


Authors retain copyright and grant the journal right of first publication with the work simultaneously licensed under a Creative Commons Attribution License that allows others to share the work with an acknowledgement of the work's authorship and initial publication in this journal.


Authors are able to enter into separate, additional contractual arrangements for the non-exclusive distribution of the journal's published version of the work (e.g., post it to an institutional repository or publish it in a book), with an acknowledgement of its initial publication in this journal.


Authors are permitted and encouraged to post their work online (e.g., in institutional repositories or on their website) prior to and during the submission process, as it can lead to productive exchanges, as well as earlier and greater citation of published work (See The Effect of Open Access).