HUBUNGAN KARAKTERISTIK MAHASISWA DENGAN KESEHATAN MENTAL MAHASISWA SELAMA KULIAH ONLINE
Ainun Madani

Program Studi Ilmu Kesehatan Masyarakat, Fakultas Kesehatan Masyarakat, Universitas Jember, Jl. Kalimantan No.I/93 68121 Jember, Jawa Timur, Indonesia

Irma Prasetyowati

Program Studi Ilmu Kesehatan Masyarakat, Fakultas Kesehatan Masyarakat, Universitas Jember, Jl. Kalimantan No.I/93 68121 Jember, Jawa Timur, Indonesia

Citra Anggun Kinanthi

Program Studi Ilmu Kesehatan Masyarakat, Fakultas Kesehatan Masyarakat, Universitas Jember, Jl. Kalimantan No.I/93 68121 Jember, Jawa Timur, Indonesia
Abstract
Gangguan kesehatan mental mengacu kepada ketidakmampuan seseorang berkembang secara fisik, intelektual, dan emosional dengan maksimal dan seimbang seperti perkembangan orang lain. Gangguan kesehatan mental dapat terjadi pada setiap individu tanpa terkecuali. Mahasiswa merupakan salah satu kelompok yang berisiko mengalami gangguan kesehatan mental. Pandemi Covid-19 mengakibatkan mahasiswa merasa stress dan tertekan karena harus menerima perubahan metode pembelajaran dari kuliah tatap muka menjadi kuliah online. Penelitian ini dilakukan bertujuan untuk mengetahui hubungan karakteristik respoden dengan kesehatan mental mahasiswa Universitas Jember selama kuliah online di masa pandemi COVID-19. Penelitian ini menggunakan metode kuantitatif deskriptif. Pengambilan sampel dilakukan dengan teknik proportionate random sampling dengan sampel mahasiswa Universitas Jember sebanyak 346 responden. Data dikumpulkan menggunakan kuesioner Kessler Psychological Distress Scale (K-10) yang telah di uji validitas. Analisis data menggunakan chi-square. Hasil analisis data menunjukkan sebagian besar responden mengalami gangguan kesehatan mental; 20,2% responden menderita gangguan jiwa ringan, 15% responden menderita gangguan jiwa sedang, dan 26,6% responden menderita gangguan jiwa parah. Korelasi yang signifikan secara statistik antara kesehatan mental dengan jenis kelamin (p=0,001). Terdapat hubungan yang signifikan antara jenis kelamin dengan kesehatan mental mahasiswa. Saran peneliti pada penelitian ini Universitas Jember diharapkan untuk memperkuat sistem layanan kesehatan mental bagi mahasiswa.
References
1] Angelica H and EH Tambunan (2021) Stres dan Koping Mahasiswa Keperawatan Selama Pembelajaran Daring di Masa Pandemik Covid-19. Jurnal Ilmiah Keperawatan Imelda 7(No. 1): 28–34. https://doi.org/10.2411-/jikepe-rawatan.v7i1.508.

2] Apriyanti C and RDT Widoyoko (2021) Persepsi Dan Aksi Masyarakat Pedesaan Di Masa Pandemi. Jurnal Ilmu Sosial Dan Humaniora 10(No.1): 50–69. http://dx.-doi-org/10.23887/jish-undiksha.v10i1.2-5526.

3] Arvidsdotter T, B Marklund, S Kylén, C Taft and I Ekman (2016) Understanding Persons With Psychological Distress In Primary Health Care. Scandinavian Journal of Caring Sciences 30(No.4): 687–694. 10.1111/scs.12289.

4] BPS (2020) Statistik Telekomunikasi Indonesia. Jakarta: Badan Pusat Statistik.

5] Callender J, L Fagin, G Jenkins, J Lester and E Smith (2016) Mental Health of Students in Higher Education Royal College of Psychiatrists. London

6] Calvarese M (2015) The Effect Of Gender On Stress Factors: An Exploratory Study Among University Students. Social Sciences 4(No.4): 1177–1184. 10.3390/-so-csci4041177.

7] Dewi KS (2012) Buku Ajar Kesehatan Mental. Semarang: UPT UNDIP Press.

8] Drapeau A, A Marchand and D Beaulieu-Prévos (2011) Mental Illnesses – Understanding. Croatia: InTech.

9] Eva N, P Shanti and N Hidayah (2020) Pengaruh Dukungan Sosial Terhadap Kesejahteraan Psikologis Mahasiswa Dengan Religiusitas Sebagai Moderator. Jurnal Kajian Bimbingan Dan Kon 5(No.3): 122–131. 10.17977/um001v5i3-20-20p122.

10] Fakhriyani DV (2019) Kesehatan Mental. Pamekasan: Duta Media.

11] Firman (2020) Dampak Covid-19 Terhadap Pembelajaran Di Perguruan Tinggi. Bioma 2(No.1): 14–20.

12] Firman and SR Rahman (2020) Pembelajaran Online Di Tengah Pandemi Covid-19. Indonesian Journal of Educational Science (IJES) 02(No.2): 81–89.

13] Firtria PA and DY Saputra (2020) Dampak Pembelajaran Daring Terhadap Kesehatan Mental Mahasiswa Semester Awal. Jurnal Riste Kesehatan Nasional 4(No.2): 60–66.

14] Gao W, S Ping and X Liu (2020) Gender Differences In Depression, Anxiety, And Stress Among College Students: A Longitudinal Study From China. Journal of Affective Disorders 263: 292–300. 10.1016/j.jad.2019.11-.121.

15] Grøtan K, ER Sund and O Bjerkeset (2019) Mental Health, Academic Self-Efficacy And Study Progress Among College Students–The Shot Study, Norway. Mental Health and Student Performance 10(No.45): 1–11. 10.3389/-fpsyg.2019.00-045.

16] Hasanah U, Ludiana, Immawati and Livina PH (2020a) Gambaran Psikologis Mahasiswa Dalam Proses Pembelajaran Selama Pandemi Covid-19. Jurnal Keperawatan Jiwa 8(No.3): 299–306.

17] Hasanah U and N Luthfiatil Fitri (2020b) Depresi Pada Mahasiswa Selama Masa Pandemi Covid-19. Jurnal Keperawatan Jiwa. 8(No.4): 421–424.

18] Indrawati B (2020) Tantangan Dan Peluang Pendidikan Tinggi Dalam Masa Dan Pasca Pandemi Covid-19. Jurnal Kajian Ilmiah 1(No.1): 39–48.

19] Irawan AW, Dwisona and M Lestari (2020) Psychological Impacts Of Students On Online Learning During The Pandemic Covid-19. Jurnal Bimbingan Dan Konseling (E-Journal) 07(No.1): 53–60. https://doi.org/10.24042/kons.v7i1.-6389.

20] Loos C, C Atyeo, S Fischinger, J Burke MD Slein, H Streeck, D Lauffenburger, ET Ryan, RC Charles and G Alter (2020) Evolution Of Early Sars-Cov-2 And Cross-Coronavirus Immunity. American Society For Microbiology MSphere 5(No.5): 1–10. https://doi.org/10.1128/mSphere-00622-20

21] Mahmud R and Z Uyun (2016) Studi Deskriptif Mengenai Pola Stres Pada Mahasiswa Praktikum. Indigenous: Jurnal Ilmiah Psikologi 1(No.2): 52–61.

22] Oktawirawan DH (2020) Faktor Pemicu Kecemasan Siswa Dalam Melakukan Pembelajaran Daring Di Masa Pandemi Covid-19. Jurnal Ilmiah Universitas Batanghari Jambi 20(No.2): 541–544. 10.33087/jiubj.v20i2.932

23] PH L, MF Mubin and Y Basthomi (2020) "Tugas Pembelajaran" Penyebab Stres Mahasiswa Selama Pandemi Covid-19. Jurnal Ilmu Keperawatan Jiwa 3(No.2): 204–208.

24] Putri RM, AD Oktaviani, ASF Utami, Ni`maturrohmah, HA Addiina and H Nisa (2020) Hubungan Pembelajaran Jarak Jauh Dan Gangguan Somatoform Dengan Tingkat Stres Mahasiswa Uin Syarif Hidayatullah Jakarta. Journal of Health Promotion and Behaviour 2(No.1): 38–45.

25] Rahmayani RD, RG Liza and NA Syah (2019) Gambaran Tingkat Stres Berdasarkan Stressor Pada Mahasiswa Kedokteran Tahun Pertama Program Studi Profesi Dokter Fakultas Kedokteran Universitas Andalas Angkatan 2017. Jurnal Kesehatan Andalas 8(No.1)

26] Rincón-Cortés M, JP Herman, S Lupien, J Maguire and RM Shansky (2019) Stress: Influence Of Sex, Reproductive Status And Gender. Neurobiology Of Stress 10: 1–6. 10.1016/-j.ynstr.2019.100155

27] Sadikin A and A Hamidah (2020) Pembelajaran Daring Di Tengah Wabah Covid-19 (Online Learning In The Middle Of The Covid-19 Pandemic). Biodik: Jurnal Ilmiah Pendidikan Biologi. 6(No.2): 214–224. https://doi.org/10.224-37/bio.v6i2.9759

28] Sundarasen S, K Chinna, K Kamaludin and M Nurunnabi (2020) Psychological Impact Of Covid-19 And Lockdown Among University Students In Malaysia : Implications And Policy Recommen-dations. International Journal of Environment Research and Public Health 17(No.6206): 1–13. https://doi.org/10.33-90/ijerph1717-6206

29] Suwartika I, A Nurdin and E Ruhmadi (2014) Analisis Faktor Yang Berhubungan Dengan Tingkat Stress Akademik Mahasiswa. The Soedirman Journal of Nursing 9(No.3): 173–189.

30] Teguh R, FF Adji, V Wilentine, H Usup and S Abertun (2020) Dampak Psikologis Pandemik Covid-19 Terhadap Mahasiswa Di Kalimantan Tengah. 1–10. 10.13140/RG.2.2.26837.04321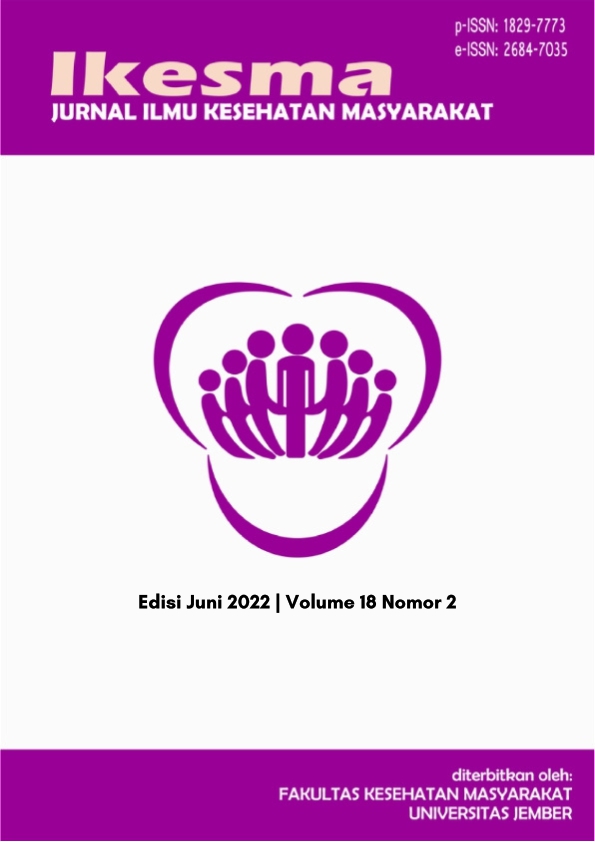 This work is licensed under a Creative Commons Attribution-ShareAlike 4.0 International License.

licensed under a Creative Commons Attribution-ShareAlike 4.0 International License.