PERILAKU KONSUMSI MAKANAN CEPAT SAJI PADA REMAJA DAN DAMPAKNYA BAGI KESEHATAN
Icha Pamelia

Departemen Promosi Kesehatan dan Ilmu Perilaku Fakultas Kesehatan Masyarakat Universitas Airlangga
Abstract
Adolescent nutritional needs need to be considered because in adolescence there is rapid growth and development. Unhealthy eating habits will affect adolescent nutrition. Unhealthy foods such as fast food are consumed by teenagers. At a time when everything is modern like now, teenagers want everything to be fast, including in choosing food. Fast food is also known to the public as junk food. Junk food is defined as food waste or food that does not have nutrients for the body. Eating junk food is not only in vain, but can also damage health. Fast food comes from western countries which generally have high fat and calorie content. Many factors influence teenagers eating fast food. These factors are discussed based on research articles and book references. Factors that influence consumption of fast food include taste, price, a comfortable place, and peer influence. Fast food can increase the risk of several diseases, such as obesity, diabetes, hypertension, and disorders of blood fat or dyslipidemia. Obesity or obesity is experienced by many children, adolescents, and adults. Obesity occurs because of a changing lifestyle, including eating patterns that often consume fast food. Eating fast food too often does not only cause obesity. However, from obesity experienced by someone, it will increase a person's risk factors for other degenerative diseases, such as high blood pressure, diabetes, cancer, heart disease, and stroke.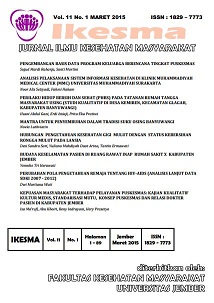 Authors who publish with this journal agree to the following terms:


Authors retain copyright and grant the journal right of first publication with the work simultaneously licensed under a Creative Commons Attribution License that allows others to share the work with an acknowledgement of the work's authorship and initial publication in this journal.


Authors are able to enter into separate, additional contractual arrangements for the non-exclusive distribution of the journal's published version of the work (e.g., post it to an institutional repository or publish it in a book), with an acknowledgement of its initial publication in this journal.


Authors are permitted and encouraged to post their work online (e.g., in institutional repositories or on their website) prior to and during the submission process, as it can lead to productive exchanges, as well as earlier and greater citation of published work (See The Effect of Open Access).