The Dispute on State Institutions' Authority: An Analysis from the Newmont Divestment Case
Syahra Ramadhani

University of Muhammadiyah Malang, Indonesia

Maynanda Shadrina

University of Muhammadiyah Malang, Indonesia

Sholahuddin Al-Fatih

University of Muhammadiyah Malang, Indonesia
Abstract
It is argued that Indonesia has three main institutional functions, inter alia, executive, legislative, and judiciary. They are interlinked as constitutional organs due to their respective positions and functions. In this context, the inter-state institutions have a supervisory body that controls other institutions due to checks balances. As a result, it can lead to disputes among them, usually related to constitutional authority discourse. This paper analyzed the differences in implementing the existing laws governing an institutional power and function that encouraged disputes by taking the Newmont divestment case as an example. This paper's method was juridical research, with statutory, case, and conceptual approaches. The paper showed that state institutions inter alia, the President, the House of Representatives, and the Financial Audit Agency, shared the same authority to resolve the Newmont divestment case. The complexity of this case involved many parties, which dealt with the contention of the purchase of 7% shares of Newmont Nusa Tenggara Company. Consequently, this case was resolved and decided in the Constitutional Court with disputes over state institutions' authorities. This paper recommended a further elaboration on the limits and meanings of state institutions.
KEYWORDS: Constitutional Disputes, State Institutions, Newmont Divestment.
References
Al-Fatih, Sholahuddin, "Model Pengujian Peraturan Perundang-Undangan Satu Atap Melalui Mahkamah Konstitusi" (2018) 25:2 Jurnal Ilmu Hukum dan Legislasi 247.

Asikin, Zainal, "Perjanjian Antara Pemerintah dengan Pihak Swasta Dalam Kaitannya dengan Divestasi Saham PT. NNT di Nusa Tenggara Barat" (2013) 42:3 Masalah-Masalah Hukum 327–346.

Broto, Wisnu, "Pemerintah Belum Tentu Bisa Beli Saham Newmont", (2011), online: Tempo .

Djumardin & Rahmawati Kusuma, "Penyertaan Modal & Pemda pada Badan Usaha Milik Daerah" (2015) 30:1 Jurnal Hukum Jatiswara.

Eddyono, Luthfi Widagdo, "Penyelesaian Sengketa Kewenangan Lembaga Negara Oleh Mahkamah Konstitusi" (2010) 7:3 Jurnal Konstitusi 547–556.

Ghoffar, Abdul, "Mewujudkan Mahkamah Konstitusi Sebagai Peradilan yang Akuntabel dan Terpercaya" (2018) 13:2 Pandecta Research Law Journal 76–88.

Hakim, Lukman, "Sengketa Kewenangan Kelembagaan Negara dan Penataannya dalam Kerangka Sistem Hukum Nasional" (2010) Jurnal Hukum Yustitia.

Kurnianingrum, Trias Palupi, "Kajian Hukum Atas Divestasi Saham Bidang Pertambangan Indonesia (Studi Kasus PT. Newmont Nusa Tenggara dan PT. Freeport Indonesia" (2012) Jurnal Majelis.

Maril, Neduro, Hendro Saptono & Siti Mahmudah, "Penyelesaian Sengketa Divestasi Saham PT Newmont Nusa Tenggara dalam Pengaturan Penanaman Modal Asing Secara Langsung (Foreign Direct Investment) Berdasarkan Putusan MK No. 2/SKLN-X/2012" (2016) 5:2 Diponegoro Law Review 1–14.

Marzuki, Peter Mahmud, Penelitian Hukum: Edisi Revisi (Jakarta: Kencana, 2017).

Montesquieu, Charles de, Montesquieu: The Spirit of the Laws (Cambridge: Cambridge University Press, 1989).

Nuswantoro, Ignatius Arga, "Prinsip Konstitusionalisme dalam Dasar Pertimbangan Putusan Sengketa Kewenangan Lembaga Negara oleh Mahkamah Konstitusi di Tahun 2012" (2013) 369:1 Jurnal Hukum 1689–1699.

Ombeng, Gaby Pratty, "Wanprestasi Terhadap Isi Perjanjian Divestasi Antara Pemerintah Indonesia dan PT. Newmont Nusa Tenggara" (2015) 1:5 Lex Priv 37–39.

Polii, Lendry T M, "Tinjauan Yuridis Terhadap Divestasi Pada Perusahaan Tambang di Indonesia Menurut Undang-Undang Nomor 4 Tahun 2009 Tentang Pertambangan Mineral dan Batubara" (2016) 4:9 Lex Sociatis 1689–1699.

Puspitasari, Sri Hastuti, "Penyelesaian Sengketa Kewenangan Konstitusional Lembaga Negara Sebagai Salah Satu Kewenangan Mahkamah Konstitusi" (2014) 21:3 Jurnal Hukum Ius Quia Iustum 402–425.

Rahardjo, Hafid, "Sengketa Perebutan Divestasi Saham Newmont Nusa Tenggara: Analisis Ekonomi Politik (2008-2012)" (2012) 16:1 Jurnal Ilmu Sosial dan Ilmu Politik 25–44.

Raras Ayu Mirati, "Kajian Hukum Divestasi Pada Perusahaan Pertambangan Asing di Indonesia" (2016) 42:1 Lex Sociatis 1–10.

Sasongko, Tjahjo, "Mengurai Transparansi Hasil Divestasi Saham PT Newmont", (2018), online: Kompas .

Simamora, Janpatar, "Problematika Penyelesaian Sengketa Kewenangan Lembaga Negara oleh Mahkamah Konstitusi" (2016) 28:1 Mimbar Hukum 77.

Sugiantoro, Hari Akbar, "Corporate Social Responsibility PT. Newmont Nusa Tenggara dalam Mengakomodasi Kepentingan Pemerintah dan Masyarakat" (2017) Jurnal Communiverse CMV.

Tanaya, Putu Edgar, "Divestasi Sebagai Alternatif Mempertahankan Viabilitas Perekonomian Indonesia (Dari Perspektif Economic Analysis of Law)" (2016) 6:2 Jurnal Advokasi 231–246.

Trisnamansyah, Purnama & Yusuf Saepul Zamil, "Divestasi Saham Asing Dalam Penambangan Bawah Tanah Dihubungkan dengan Kedaulatan Negara" (2016) 3:3 Padjadjaran Jurnal Ilmu Hukum 609–627.

Wira S, Lalu Pria, "Sinkronisasi Kebijakan Kerjasama Antardaerah Dalam Divestasi Saham PT Newmont Nusa Tenggara" (2015) 27:1 Mimbar Hukum 43.

Yoesry, Erni, "Divestasi PT. Freeport Indonesia" (2019) 49:1 Jurnal Hukum dan Pembangunan 153–179.

Yulianto, Winasis, "Rekonseptualisasi Penyelesaian Sengketa Kewenangan Lembaga Negara" (2014) 12:1 Jurnal Ilmu Fenomena 1111–1133.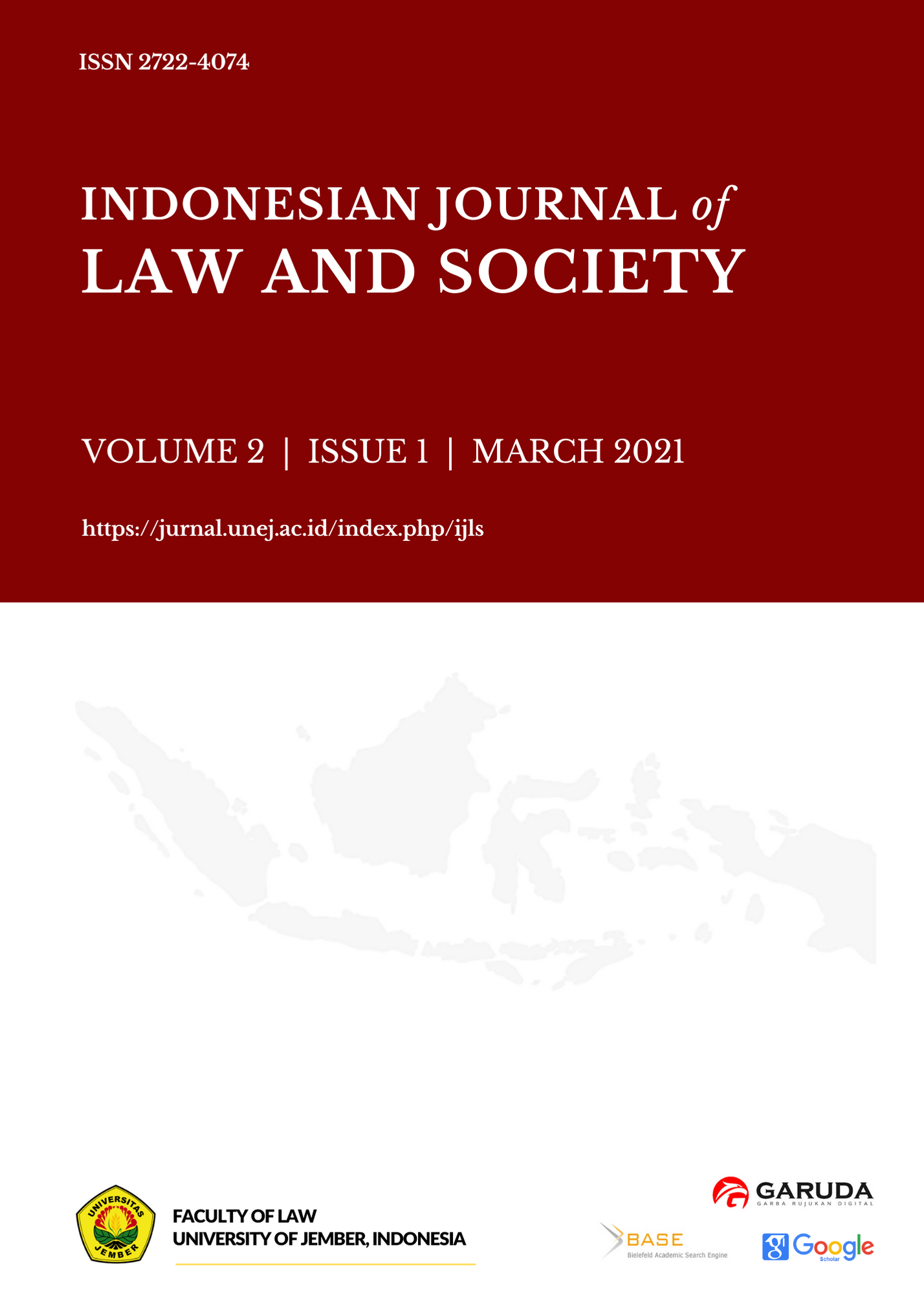 This work is licensed under a Creative Commons Attribution-ShareAlike 4.0 International License.
The Indonesian Journal of Law and Society has CC-BY-SA or an equivalent license as the optimal license for the publication, distribution, use, and reuse of scholarly work. Authors who publish with this journal agree to the following terms:
1. Authors retain copyright and grant the journal right of first publication with the work simultaneously licensed under a Creative Commons Attribution-ShareAlike 4.0 International License that allows others to share the work with an acknowledgment of the work's authorship and initial publication in this journal.
2. Authors are able to enter into separate, additional contractual arrangements for the non-exclusive distribution of the journal's published version of the work (e.g., post it to an institutional repository or publish it in a book), with an acknowledgment of its initial publication in this journal.
3. Authors are permitted and encouraged to post their work online (e.g., in institutional repositories or on their website) prior to and during the submission process, as it can lead to productive exchanges, as well as earlier and greater citation of published work (See The Effect of Open Access).

You are free to:
Share — copy and redistribute the material in any medium or format.
Adapt — remix, transform, and build upon the material for any purpose, even commercially.

The licensor cannot revoke these freedoms as long as you follow the license terms.



All papers published in the Indonesian Journal of Law and Society are licensed under a Creative Commons Attribution-ShareAlike 4.0 International License.