THE EFFECT OF VEHICLES INTENSITY IN SUMBERSARI JEMBER REGENCY
Eva Kurnia Sari

Department of Geography Education, University of Jember, Indonesia

Dinda Ayu Pramesty

Department of Geography Education, University of Jember, Indonesia
Abstract
The main problem is vehicles very much owned by the public of Indonesia. One of transportation that is used population usefulness as a tool for mobility to a place that will be addressed, from rural to urban areas or vice versa. Community needs more triggers the movement of people from one place to another. Highway average - average be passed by a motorcycle and a car. Geography and transport have a very close relationship. The purpose of this study was to analyze the density of the vehicle in the sumbersari area of Kabupaten Jember. The method used is a survey using a sample area. The results showed that vehicle density most often occurs in the morning and evening.
Keywords: mobility, effective today, the volume of vehicles
References
Alhani et al. 2016 Suburban, IN, Pontianak, Case Road, and Sungai Raya. "Capacity Analysis of Road Traffic in Suburban Pontianak (Raya River Road Case In).Untan Civil Engineering Journal.
BPS. Jember 2015. In 2014 Bps Figures
Firmansyah, Deden Et Al. 2017 Analysis of a Traffic Jam Area (Case Study on The Street Lenteng Agung).Civil Engineering Journal. Vi (2). September.
National Seminar On Civil Engineering, 2012. Ums Civil Engineering Program, University Of Pancasila Jakarta.Frans, J. H Et Al. 2017. Transfer to Transport Public Transport Mode For Personal in Kupang. Civil Engineering Journal. Vi (2). September
Hand, D., & Ning, U. 2010. Analysis Of Road Network Optimization Based Traffic Density In The Region Semarang Assisted Geographical Information Systems(Case Study Region Semarang Regency). Xv (2), 121-135.Ifran, Ifsan Et Al. Performance 2015.Analisis Roads By Using Mkji Road Superintendent Check Agus Palembang: Tridinanti University. Pelembang.
Roads, P., Rukmini, Ra, & Jepara, Kk 2017. Survey Current Density Traffic Intersection Reviews In Civil Engineering, 19-24.Kamarwan, Ss 1997. Transportation Systems. Jakarta: Gunadarma.
Meyer, Jp, & Allen, Nj, 1984. Testing The "Side-Bet Theory" of Organizational Commitment: Some Methodological Considerations.Journal Of Applied Psychology, 69 (3), 372-378.
Sudjana, Nana. 1996. Statistical Methods. Bandung: TarsitoNovalia, Cindy. 2016. Analysis And Solutions Traffic Congestion In Cities Roads (Case Study Jalan Imam Bonjol -Sisingamangaraja Street).Jrsdd, Iv (4): 153 -162
Pabundu Tika, Moh. 1997. Methods Of Geography. Jakarta: Pt Gramedia.
Pramoedya, Vishnu Et Al. 2016. Village of Ubud on The Threshold Gridlock. Journal of Tourism Destination.Iv (2). S1 Studies Program Of The Faculty Of Tourism Destinations Tourism Udayana University.
Rizani,  Ahmad, 2015. Evaluation of Performance Barriers Due Road Side (Case Study RoadSoetoyo S Banjarmasin). Banjarmasin: Polytechnic Banjarmasin.
Rodrigue,  Jean  Paul.  2013.  The  Geography Of  Transport  Systems.  Usa  And  Canada By    Routledge 711 Third Avenue, New York
Susanto, Irwan Et Al. 2015. "Geospatial (Study Area: Central Bandung)." 5: 31-44.Widodo, Revelation Et Al. 2012. Analysis of Volume, Speed, and Density Traffic Method Greenshields  And  Greenberg.Scientific  Journal  Semesta  Teknika.  Xv  (2).  178-184, November.
Wini,  Mustikarani.  2016. Traffic  Along  The  Way  H  Rais  A  Rahman  (Sui  Jawi)  City Pontianak. : 143-55.
Copyright (c) 2018 Geosfera Indonesia Journal and Department of Geography Education, University of Jember
This work is licensed under a
Creative Commons Attribution-Share A like 4.0 International License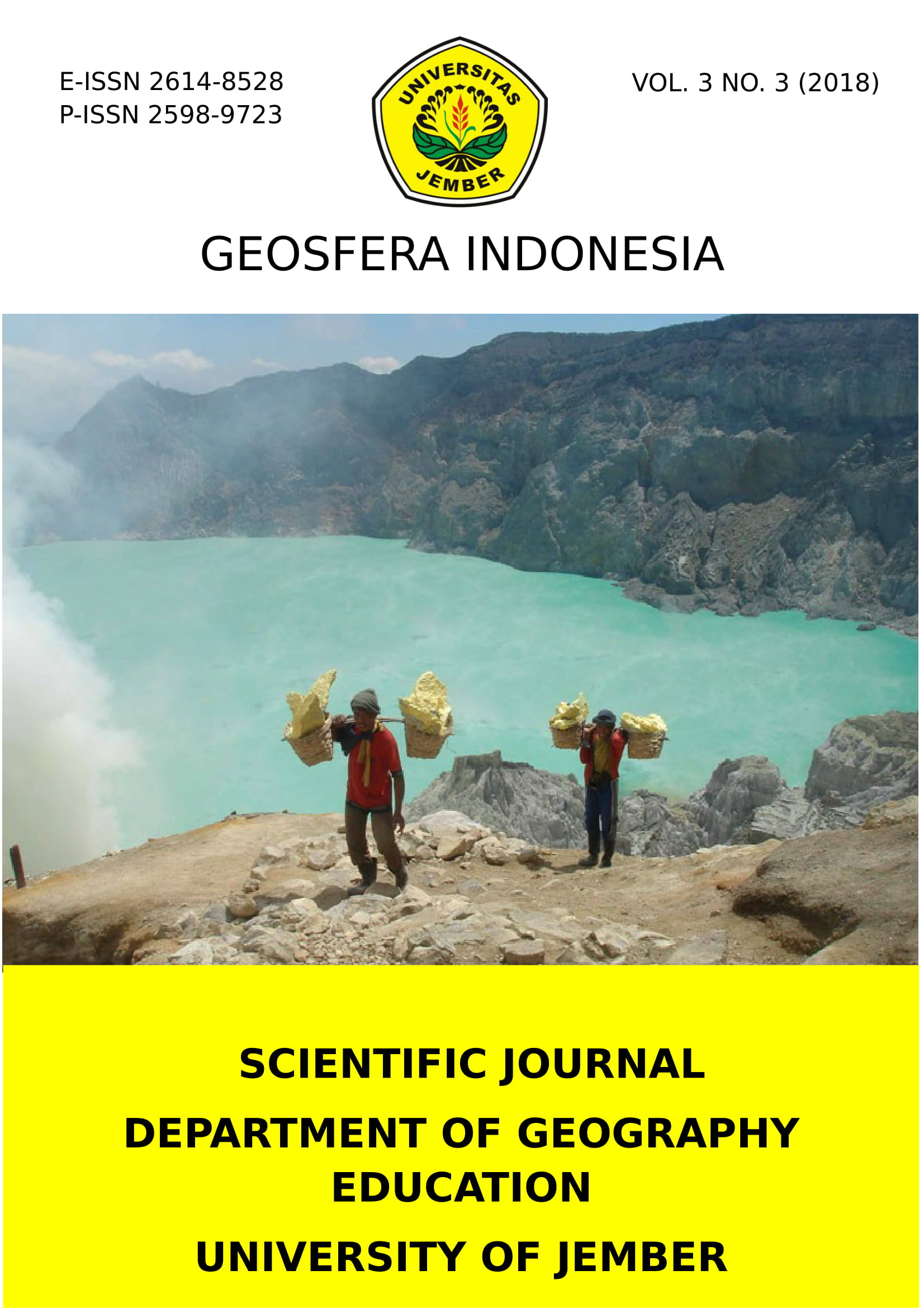 Section
Original Research Articles