THE ENVIRONMENT ANALYSIS OF POPULATION GROWTH, UNEMPLOYMENT, AND POVERTY LEVEL IN MAESAN DISTRICT BONDOWOSO REGENCY
Fahmi Arif Kurnianto

Department of Geography Education, University of Jember, Indonesia

Dian Rakhmasari

Department of Geography Education, University of Jember, Indonesia

Fahrudi Ahwan Ikhsan

Department of Geography Education, University of Jember, Indonesia

Bejo Apriyanto

Department of Geography Education, University of Jember, Indonesia

Elan Artono Nurdin

Department of Geography Education, University of Jember, Indonesia
Abstract
Poverty is one of the problems in the economy and environment that must be resolved immediately. The factors that influence poverty are population growth, economic growth, and unemployment. This observation aims to find out the relation of environment, population growth, economic growth, and unemployment on the level of poverty in Maesan Subdistrict, Bondowoso Regency. The data in this observation is secondary data obtained from the Central Bureau of Statistics of Bondowoso Regency. The results of this observation indicate that in comparison the variables of population growth, economic growth, and unemployment, have a significant effect on the level of poverty and environment in Maesan District, Bondowoso Regency. According to the data we obtain from the field between the influence of population growth, the economy and unemployment on average the rate of growth is slow and the people are still quite backward, still need more attention for environment effect and there are concrete actions for the development of the Maesan region. Therefore the government's encouragement is very important to promote the community in Maesan District, Bondowoso Regency.
Keywords: Population Growth, Maesan, Unemployment
References
Basri, Faisal H. 1998. Indonesian Economy Ages in the XXI Century, Distortion, Opportunities and Constraints. Jakarta: Erlangga.
Boediono. 1993. Microeconomics. Yogyakarta: BPFE.
Ellies S. 1994. The Dimension of Poverty. Jakarta: Kumarien Press
Komariyah, Ani. 2013. Analysis of Several Factors Affecting Fishermen's Income: Case Study in Tembokrejo Village, Muncar District, Banyuwangi Regency. Jember: University of Jember
Prawoto, Nano. 2005. "Understanding Poverty and Handling Strategy ". Journal of Economics and Development. Vol. 6 No. 1. FE UMY
Simanjuntak, P. 1998: Introduction to FEUI's Human Resource Economics.
Sukirno, Sadono. 1992. Introduction to Macroeconomics. Jakarta: LPFI-Press.
Widarjono, A.2013. Econometrics Theory and Application. Yogyakarta: Econisia.
Copyright (c) 2018 Geosfera Indonesia Journal and Department of Geography Education, University of Jember
Copyright Notice
This work is licensed under a
Creative Commons Attribution-Share A like 4.0 International License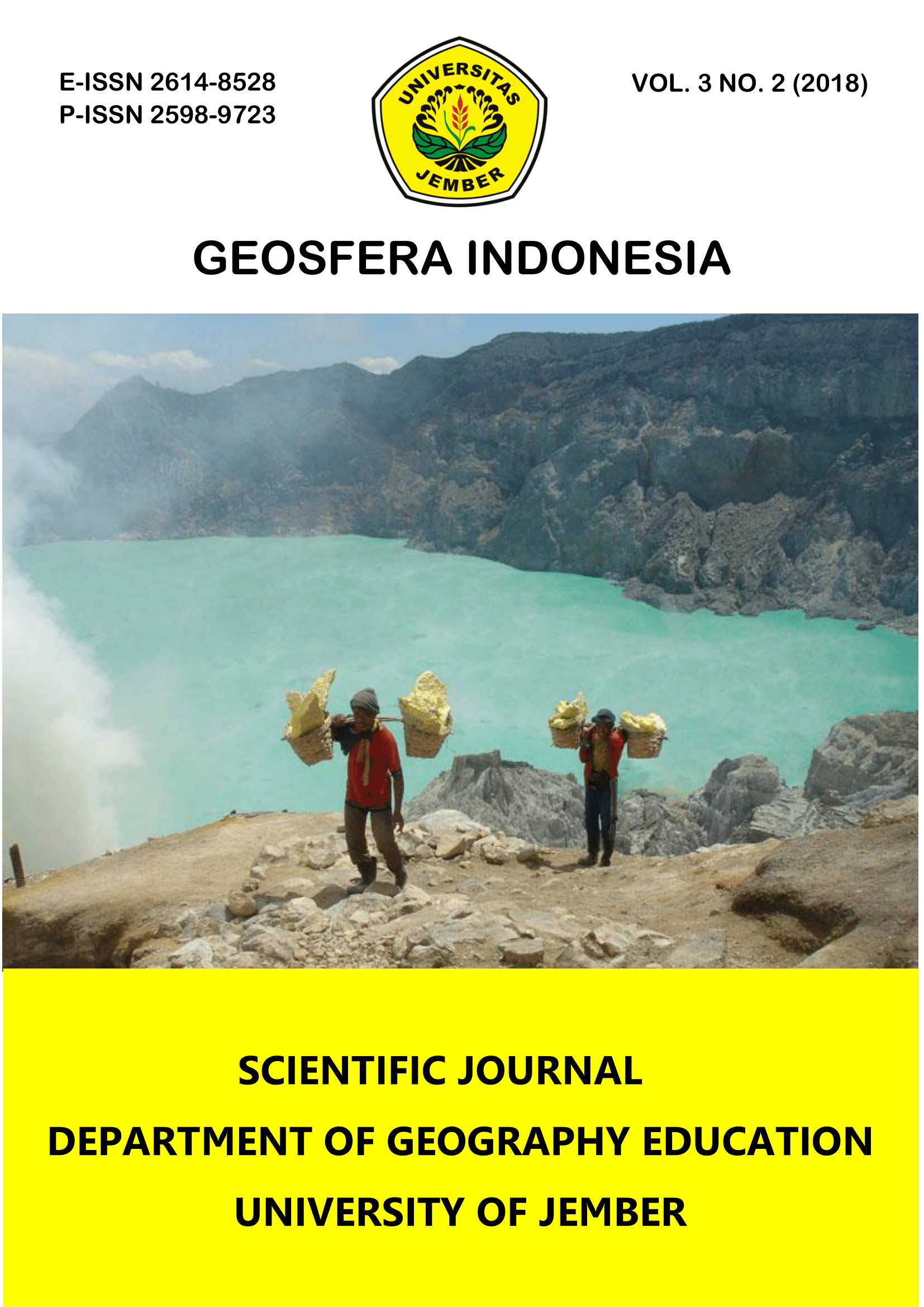 Section
Original Research Articles