Mapping of Subsurface Geological Structure and Land Cover Using Microgravity Techniques for Geography and Geophysic Surveys: A Case Study of Maluri Park, Malaysia
La Ode Nursalam

Department of Geography Education, Halu Oleo University, Kendari, Sulawesi Tenggara, 93232, Indonesia

A Arisona

Department of Geology Engineering, Halu Oleo University, Kendari, Sulawesi Tenggara, 93232, Indonesia

R Ramli

Department of Geography Education, Halu Oleo University, Kendari, Sulawesi Tenggara, 93232, Indonesia

La Harudu

Department of Geography Education, Halu Oleo University, Kendari, Sulawesi Tenggara, 93232, Indonesia

Sitti Kasmiati

Department of Archeology, Halu Oleo University, Kendari, Sulawesi Tenggara 93232, Indonesia

Eko Harianto

Department of Agrobusiness, Kendari Terbuka University, Kendari, Sulawesi Tenggara, 93232, Indonesia

Fahrudi Ahwan Ikhsan

Department of Geography Education, Jember University, East Java, 68121, Indonesia

Andri Estining Sejati

Department of Geography Education, Sembilanbelas November Kolaka University, Kolaka, Sulawesi Tenggara 93561, Indonesia

http://orcid.org/0000-0003-2052-9094
Abstract
A microgravity investigation on bedrock topography was conducted at Maluri park reference level in Kuala Lumpur, Malaysia. The study aim to mapping the near-surface structure and soil and land cover distribution for geography and geophysics surveys.  Two types of cross-section modeling of the residual anomaly generated the MaluriBouguer Anomaly model for site-1 and site-2 at Maluri Park. The 2D microgravity models produced the contour map, displaying the characterization due to density contrast in rock types while mapping the subsurface geological structure at different depths. Moreover, a synthetic model was initiated with the assumption of lateral distance on the left and right sides taken at 50 m and a depth of 60 m. The results of modeling confirmed that the soil and rock type composition on both models site tests are topsoil (1.1 to 1.92 g/cm3), soil (1.8 g/cm3), clay (1.63 g/cm3), gravel (1.7 g/cm3), sand (2.0 g/cm3), shale (2.4 g/cm3), sandstone (2.76 g/cm3), and limestone (2.9 g/cm3). The 2D gravity modeling using two model site tests obtained a correspondence with the observed microgravity data.
Keywords: Bouguer anomaly, limestone, microgravity, soil structure, topography.
References
Amaluddin, L. O., Rahmat, R., Surdin, S., Ramadhan, M. I., Hidayat, D. N., Purwana, I. G., & Fayanto, S. (2019). The Effectiveness of Outdoor Learning in Improving Spatial Intelligence. Journal for the Education of Gifted Young Scientists, 7(3), 667–680. https://doi.org/10.17478/jegys.613987
Arisona,A., Mohd N., Amin E.K., &Abdullahi, A.(2018).Assessment of microgravity anomalies of soil structure for geotechnical 2d models.Journal of Geoscience, Engineering, Environment, and Technology (JGEET)3(3), 151-154.
Georgsson, L.S. (2009). Geophysical Methotds Used in Geothermal Exploration. Presented at Exploration for Geothermal Resources, 1-22 November 2009, 1-16.
Grandjean, G. (2009). From Geophysical Parameters to Soil Characteristics.Florida: Report N°BRGM/FP7-DIGISOIL Project Deliverable 2.1, Final ReportDepartment of Civil and Coastal EngineeringUniversity of Florida.
Hiltunen, D.R., Hudyma,N.,Tran,K.T.,&Sarno,A.I. (2012).Geophysical Testing of Rock and Its Relationthipsto Physical Properties.Florida:Final ReportDepartment ofCivil and Coastal EngineeringUniversity ofFlorida.
Kirsch,R. (2006).GroundwaterGeophysics, ATool for Hydrogeology.New York: Springer.
Kamal,H.,Taha,M.,&Al-Sanad,S. (2010). Geoenvironmental Engineering and Geotechnics, GeoShanghai 2010 International Conference. (accessed 02.03.17)
Lilie, R.J. (1999).Whole Earth Geophysics: An Introductory Textbook for Geologists and Geophysicists. New Jersey:Prentice-HallInc.
Pringle, J.K., Styles, P., Howell, C.P.,Branston, M.W., Furner, R., &Toon,S.M. (2012). Long-term time-lapse microgravity and geotechnical monitoring of relict salt mines, marston, cheshire, uk. Geophysic77(6), 165-171.
Samsudin, H.T.(2003).A microgravity survey over deep limestone bedrock.Bulletin of Geological Society of Malaysia4(6), 201-208.
Tan, S.M. (2005). Karsticfeatures of kualalumpur limestone. Bulletin of the Institution of EnginnerMalaysia 4(7), 6-11.
Tajuddin, A.&Lat, C.N. (2004).Detecting subsurfacevoids using the microgravity method, a case study from kualalipis, pahang.Bulletin of Geological Society of Malaysia 3(48), 31-35. 
Tuckwell, G., Grossey, T., Owen, S., & Stearns, P. (2008). The use of microgravity to detect small distributed voids and low-density ground. Quarterly Journal of Engineering Geology and Hydrogeology, 41(3), 371–380. https://doi.org/10.1144/1470-9236/07-224 
Wanjohi, A.W. (2014). Geophysical Field Mapping. Presented at Exploration for Geothermal Resources, 2-23 November 2014, 1-9.
Yusoff , Z.M., Raju,G. &Nahazanan, H.(2016).Static and dynamic behaviour of kualalumpur limestone. Malaysian Journal of Civil Engineering  Special Issue Vol.28 (1), p.:18-25.
Zabidi, H. & De Freitas, M.H. (2011).Re-evaluation of rock core logging for the prediction of preferred orientations of karst in the kualalumpur limestone formation. Engineering Geology, 117(3-4), p.: 159–169.
Copyright (c) 2019 Geosfera Indonesia Journal and Department of Geography Education, University of Jember
This work is licensed under a
Creative Commons Attribution-Share A like 4.0 International License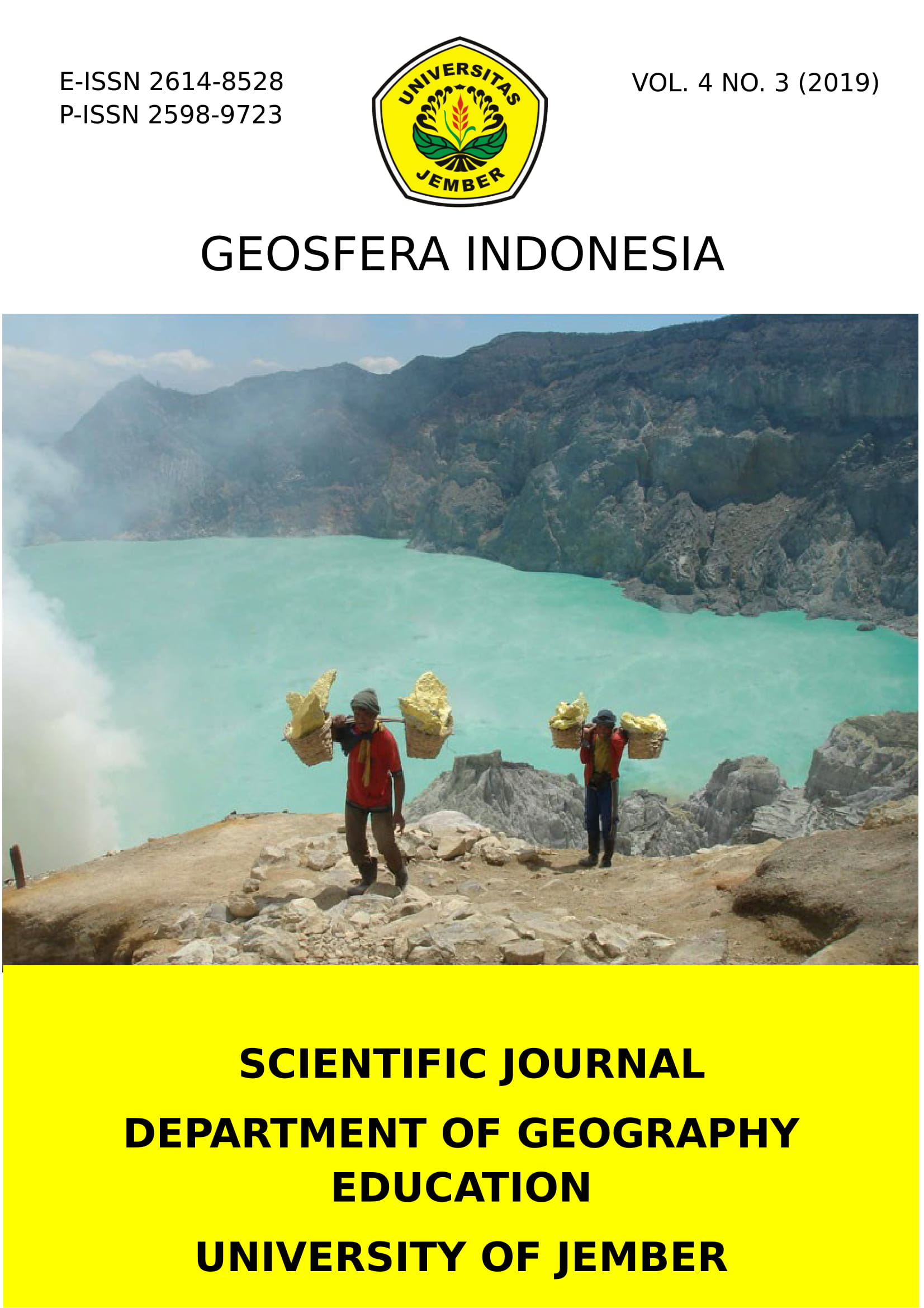 Section
Original Research Articles