Penerapan Community based Tourism: Upaya Pendampingan Kelompok Sadar Wisata (Pokdarwis) Karangpakel Bersatu dalam Mengemas Produk Wisata di Desa Badean Jember
Rebecha Prananta

DIII Usaha Perjalanan Wisata, FISIP, Universitas Jember

Hainur Rofiqi

DIII Usaha Perjalanan Wisata FISIP Universitas Jember
Abstract
Badean Village has a lot of potential, including typical village cuisine, coffee plantations, durian gardens, clear river flows, megalithic historical stones and others. The current development of Badean Village is still not optimal, due to the lack of public knowledge about tourism and people who do not understand well about the tourism potential they have to be packaged, which will later become something interesting and have selling points to tourists. The purpose of this research is to encourage and assist the Pokdarwis Karangpakel Bersatuin optimizing tourism potential so that it can be packaged into tourism products. Data collection methods used are observation, interviews and literature study. The results of this study are: (1) the implementation of the concept of community based tourism (CBT) in Badean Village has been in accordance with the principles of CBT; (2) efforts to assist the Pokdarwis Karangpakel Bersatu in packaging tourism products have been carried out in Badean Village; (3) there are several tourism potentials that have been packaged and developed into tourism products that have selling value.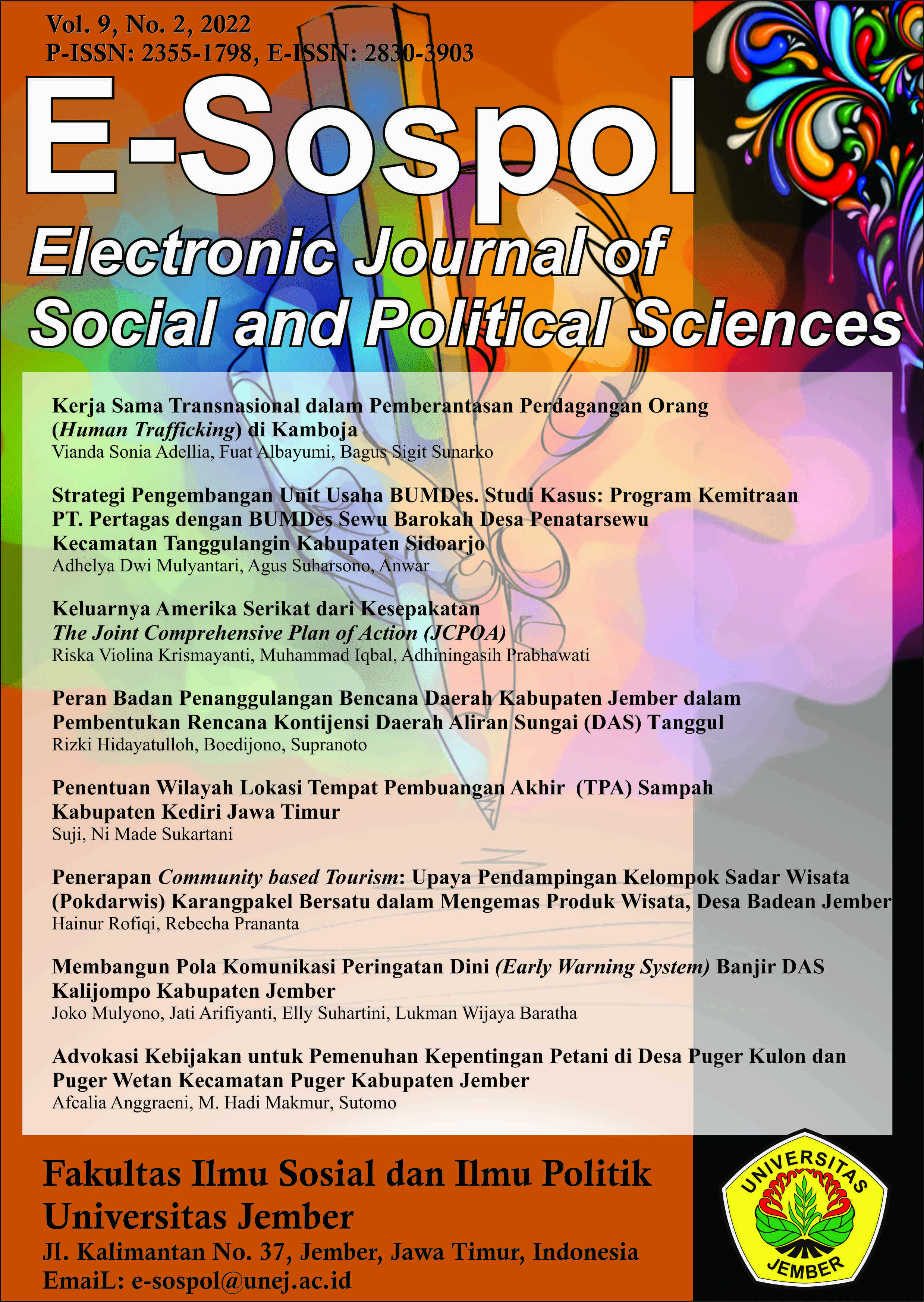 Penulis yang mengusulkan naskahnya untuk dapat diproses penerbitannya pada e-SOSPOL dianggap telah menyetujui beberapa hal sebagai berikut:
1. Penulis tidak dapat menarik naskah yang telah usulkan untuk diproses hingga mendapat jawaban dari Ketua Dewan Penyunting atas status naskah artikel ilmiahnya (diterima atau ditolak untuk diterbitkan).
2. Penerbit tidak bertanggung jawab terhadap kasus plagiasi atas artikel yang terbit pada e-SOSPOL
3. Penerbit tidak bertanggung jawab atas data dan isi dari artikel yang diterbitkan pada e-SOSPOL, dan sepenuhnya merupakan tanggung jawab penulis.