Perbandingan Kinerja Teknik Modulasi Inverter Dua-Level untuk Pengaturan Kecepatan Motor Induksi Tiga-Fase
I Nyoman Wahyu Satiawan

Universitas Mataram

Ida Bagus Fery Citarsa

Universitas Mataram

Supriono .

Universitas Mataram
Abstract
Abstract
This paper compares various modulation techniques of twolevel
inverter, i.e 180 conduction method, Sin-PWM (SPWM) and
space vector PWM (SVPWM). Simulation result shows that 180
conduction mode is able to generate the highest voltage output
however it results the worse performance. Comparison of
fundamental component of the output voltage is 0.637 : 0.5 : 0.57
p.u for 180 conduction method, SPWM and SVPWM respectively.
Meanwhile comparison of voltage output THD is 31% : 68% : 30%
and comparison of phase stator current THD is 50 % : 24% : 9.7%
for 180 conduction method, SPWM and SVPWM respectively.
Furthermore, relationship of speed - torque shows that when motor
is fed by inverter using 180 conduction method, motor is able to
reach the highest speed (1765 rpm) but results high torque ripple
compare to SVPWM (1685 rpm) and SPWM (1460 rpm). It is also
shown that the SVPWM method performs the smoothest torque
ripple among the three modulation methods. The results prove that
SVPWM method is the most suitable method for variable speed
drive of a three-phase induction motor.
Keywords— 180 conduction method, SPWM method, SVPWM method, Total Harmonics Distortion (THD), Three-phase induction motor speed drive.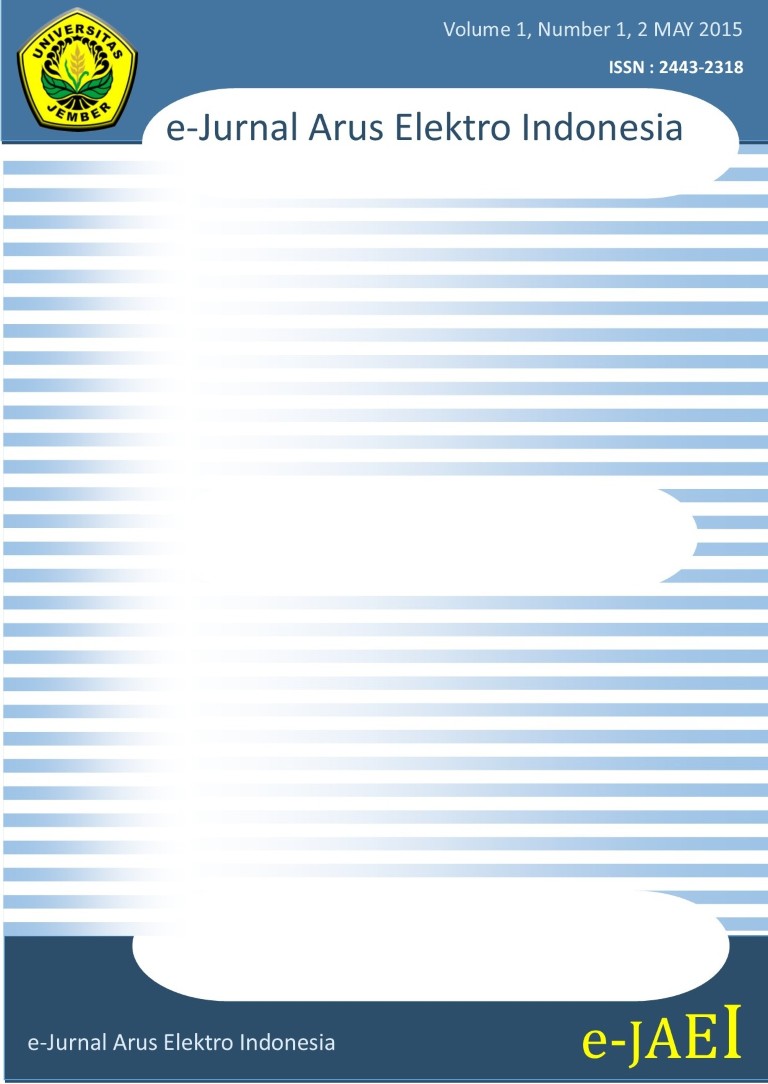 How to Cite
SATIAWAN, I Nyoman Wahyu; CITARSA, Ida Bagus Fery; ., Supriono. Perbandingan Kinerja Teknik Modulasi Inverter Dua-Level untuk Pengaturan Kecepatan Motor Induksi Tiga-Fase.
Jurnal Arus Elektro Indonesia
, [S.l.], v. 1, n. 1, may 2015. ISSN 2443-2318. Available at: <
https://jurnal.unej.ac.id/index.php/E-JAEI/article/view/1456
>. Date accessed: 27 sep. 2023.
Sebagai penulis yang sesuai naskah dan atau atas nama semua penulis, saya menjamin bahwa :
Naskah yang diajukan adalah karya asli saya/kami sendiri.
Naskah belum dipublikasikan dan tidak sedang diajukan atau dipertimbangkan untuk diterbitkan di tempat lain.
Teks, ilustrasi, dan bahan lain yang termasuk dalam naskah tidak melanggar hak cipta yang ada atau hak-hak lainnya dari siapa pun.
Sebagai penulis yang sesuai, saya juga menjamin bahwa "JAEI Editor Journal" tidak akan bertanggung jawab terhadap semua klaim hak cipta dari pihak ketiga atau tuntutan hukum yang dapat diajukan di masa depan, dan bahwa saya akan menjadi satu-satunya orang yang akan bertanggung jawab dalam kasus tersebut.
Saya juga menjamin bahwa artikel tersebut tidak mengandung pernyataan memfitnah atau melanggar hukum.
Saya/kami tidak menggunakan metode yang melanggar hukum atau materi selama penelitian.
Saya/kami memperoleh semua izin hukum yang berkaitan dengan penelitian,
Saya/kami berpegang pada prinsip-prinsip etika selama penelitian.
Saya/kami bersedia apabila artikel kami dipublikasikan oleh tim redaksi JAEI