Screening Fitokimia dan Studi Aktivitas Ekstrak Daun Sintok (Cinnamomum sintoc Bl.) Sebagai Antioksidan dan Antihiperlipidemia
Ardine Kumalasari

Jurusan Kimia, Fakultas Matematika dan Ilmu Pengetahuan Alam, Universitas Jember

Wuryanti Handayani

Jurusan Kimia, Fakultas Matematika dan Ilmu Pengetahuan Alam, Universitas Jember

Tri Agus Siswoyo

Central for Development of Advanced Science and Technology (CDAST), Universitas Jember
Abstract
Cinnamomum sintoc Bl. merupakan tanaman yang memiliki kandungan minyak atsiri di kulit batangnya yang digunakan untuk antioksidan, antihiperlipidemia dan lain-lain. Dari penelitian ini, senyawa metabolit sekunder dari daun sintok (kadar air 54,7%±0,69) diekstrak dengan metanol dan dianalisis dengan reagen spesifik. Daun sintok diekstraksi secara maserasi bertingkat dengan meningkatkan kepolaran pelarut, yaitu n-heksana, etil asetat, metanol. Uji antioksidan dan antihiperlipidemia dilakukan pada setiap ekstrak(HS, ES, MS) menggunakan standar asam galat equivalent. Total fenolik dan total flavonoid dihitung menggunakan kurva standar asam galat dan kuersetin, hasil total fenolik dari setiap ekstrak antara lain HS (39,23±2,79 mg AGE/g); ES (110,77±2,37 mg AGE/g); dan MS (283,63±3,96 mg AGE/g). Aktivitas antioksidan pada ekstrak ditentukan dengan kemampuan ekstrak untuk meredam DPPH sedangkan aktivitas antihiperlipidemia ekstrak ditentukan dengan kemampuan ekstrak untuk menghambat kinerja lipase. Potensi ekstrak daun sintok terhadap antioksidan cukup tinggi hanya untuk ekstrak MS, sedangkan potensi terhadap antihiperlipidemia untuk semua jenis ekstrak.
References
[1] Kadam, D. D., Mane, P. C., dan Chaundhari, R. D. 2013. Phytochemical Screening and Pharmacological Applications of Some Selected Indian Species. International Journal of Science and Research. 4 (3): 704-706.
[2] Alfira, A. 2014. Uji Aktivitas Antioksidan Ekstrak dan Fraksi Aktif Kulit Batang Sintok. Skripsi. Jakarta: UIN Syarif Hidayatullah.
[3] Wink. 1999. Metabolit Sekunder Manfaat dan Perkembangannya dalam Dunia Farmasi. http://lib.ugm.ac.id/. [Diakses pada 20 April 2016].
[4] Merken, H. M. dan Beecher, G. R. 2000. Measurement of Food Flavonoids by High- Perfomance Liquid Chromatogrphy. J Aqric Food Chem. 48(3): 577-599.
[5] Winarsi, H. 2007. Antioksidan Alami dan Radikal Bebas. Yogyakarta: Kanisius.
[6] Jin, L., Zhang, Y., Yan, L., Guo, Y., dan Niu, L. 2012. Phenolic Compounds and Antioxidant Activity of Bulb Extracts of Six Lilium Species Native to China. Molecule. 17: 9361-9378.
[7] Shin, J. E., Han M. J., dan Kim D. H. 2003. 3- methylethergalangin Isolated from Alpinia Officinarum Inhibits Pancreatic Lipase. J Biol Pharma. 26(6): 854-857.
[8] Sudarmadji, S., Haryono, B., dan Suhardi. 1989.
Prosedur Analisis untuk Bahan Makanan dan
Pertanian. Yogyakarta: Liberty.
[9] Tiwari, P., Kumar, B., Kaur, M., Kaur G., dan Kaur,
H. 2011. Phytochemical Screening and Extraction: A Review. International Pharmaceutica Sciencia. 1(1): 98-106.
[10] Taga, M. S., Miller, E. E., dan Prat, D. E. 1984. Chia seeds as a source of nature lipid antioxidants. J. Am. Oil. Chem. Soc. 61: 928-931.
[11] Chang, W. C., Kim, S. C., Hwang, S. S., Choi., B. K., Ahn, H. J., Lee, M. Y., Park, S. H., dan Kim., S. K. 2002. Antioxidant activity and free radical scavenging capacity between Korean medicinal Plants and flavonoids by assay-guided comparison. Plant Sci. 163: 1161-1168.
[12] Soler-Rivas, C., Espín, J. C., dan Wichers, H. J. 2000. An easy and fast test to compare total free radical scavenger capacity of food stuffs. Phytochem. Anal. 11: 330-338.
[13] Nakaku, N. 2002. Amano Enzyme for Diagnostic. Japan: Amano Enzyme Inc.
[14] Prakash, A., Rigelhof, F., dan Mlller, E. 2001. Antioxidant Activity. Medalion Labs.
[15] Reynetson, K. A. 2007. Phytochemical Analysis of Bioactive Constituens from Edible Myrtaceae Fruit. Dissertation. New York: The City University of New York.
[16] Molyneux, P. 2004. The use of the stable free radical diphenylpicryl-hydrazyl (DPPH) for estimating antioxidant activity. Songklanakarin J. Sci. Technol. 26: 211–219.
[17] Pliego, J., Mateos, J. C., Rodriguez, J., Valero,F., Baeza, M., Femat, R., Camacho, R., Sandoval, G., dan Herrera-Lopez, E. J. 2015. Moitoring Lipase/Esterase Activity by Stopped Flow in a Sequential Injection Analisys System Using p-Nitrophenyl Butirate. Sensors. 15: 2798-2811.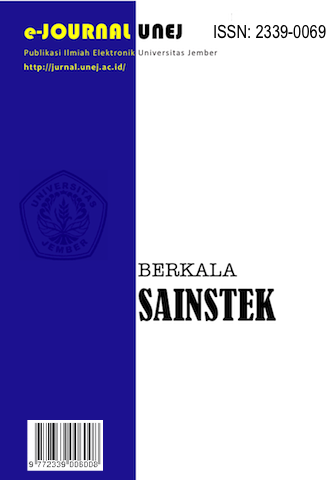 This work is licensed under a Creative Commons Attribution-NonCommercial 4.0 International License.