Perbaikan Beberapa Karakteristik Limbah Cair Tahu Menggunakan Variasi Jumlah Tanaman Kangkung (Ipomoea Aquatica) dan Tanaman Kiambang (Pistia Stratiotes)
Erika Irfan Rusyadi HM

Program Studi Agroteknologi, Fakultas Pertanian, Universitas Jember, Indonesia

Tri Candra Setiawati

Program studi ilmu tanah, Fakultas Pertanian, Universitas Jember, Indonesia
Abstract
Industri pabrik tahu menghasilkan limbah cair tahu sebagai bahan sisa produksinya. Limbah cair tahu yang tidak dikelola akan menimbulkan permasalahan seperti pencemaran ketika dibuang ke sungai. Bahan organik di dalam limbah cair tahu sangat tinggi, proses dekomposisi diperlukan supaya dapat terdegradasi. Karakteristik limbah cair tahu memiliki konsentrasi DO yang rendah, TSS tinggi, dan pH asam. Penggunaan tanaman kangkung dan kiambang berfungsi untuk mengelola limbah cair tahu supaya sesai dengan Peraturan Menteri Lingkungan Hidup No. 05 Tahun 2014 tentang baku mutu air limbah tahu. Tanaman kangkung dan kiambang memiliki potensi untuk memperbaiki karakteristik limbah cair tahu. Tujuan dari penelitian ini yaitu mengetahui pengaruh variasi jumlah tanaman kangkung dan kiambang, serta konsentrasi limbah cair tahu terhadap perbaikan beberapa karakteristik limbah cair tahu. Penelitian disusun dengan Rancangan Acak Lengkap (RAL) faktorial menggunakan dua faktor dan pengulangan sebanyak tiga kali. Faktor pertama yaitu jumlah tanaman terdiri dari tanpa tanaman (T0), 15 tanaman kangkung (T1), 30 tanaman kangkung (T2), 15 tanaman kiambang (T3), dan 30 tanaman kiambang (T4) dan faktor kedua yaitu konsentrasi limbah cair tahu terdiri dari konsentrasi 75% (K1) dan konsentrasi 100% (K2). Variabel yang diamati yaitu DO, TSS, TDS, pH, tinggi tanaman, berat basah tanaman, jumlah daun, persentase kematian tanaman. Data dianalisis dengan ANOVA jika berbeda nyata dilakukan uji Duncan dengan taraf 5%. Faktor tunggal jumlah tanaman hari ke-7 menunjukkan pengaruh berbeda sangat nyata pada DO dan TSS, berbeda nyata pada TDS, serta berbeda tidak nyata pada pH. Faktor tunggal konsentrasi limbah hari ke-7 menunjukkan pengaruh berbeda sangat nyata pada TSS, berbeda nyata pada TDS, serta berbeda tidak nyata pada DO dan pH. Perlakuan terbaik adalah T4K1 dengan konsentrasi DO tertinggi dan TSS terendah. Tanaman kiambang tidak efektif digunakan untuk limbah dengan pH asam karena akan mengalami kematian serta tanaman kangkung masih belum efektif untuk memperbaiki beberapa karakteristik limbah cair tahu.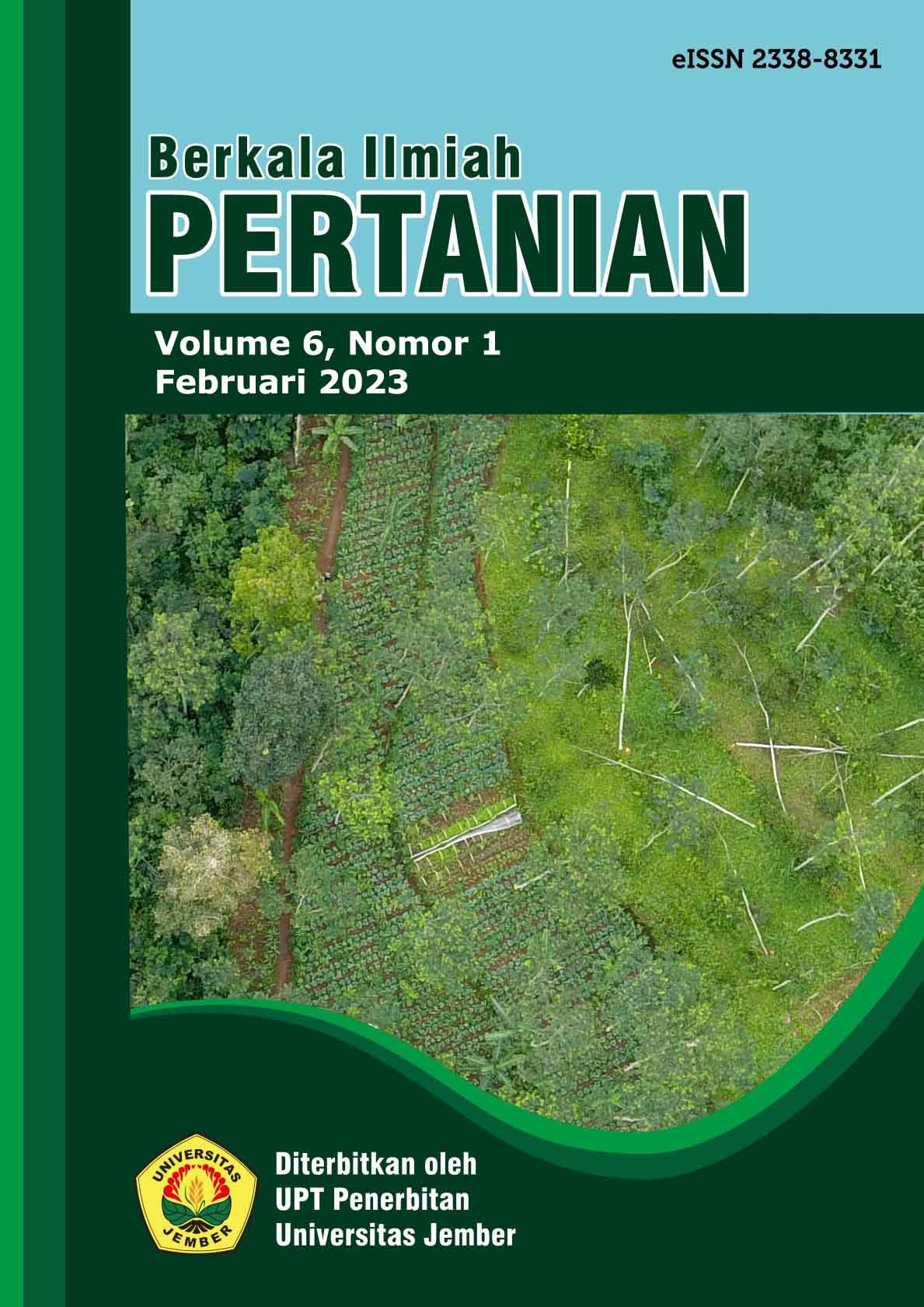 Authors who publish with this journal agree to the following terms:
1.Authors retain copyright and grant the journal right of first publication with the work simultaneously licensed under a Creative Commons Attribution-NonCommercial 4.0 International License that allows others to share the work with an acknowledgement of the work's authorship and initial publication in this journal.
2.Authors are able to enter into separate, additional contractual arrangements for the non-exclusive distribution of the journal's published version of the work (e.g., post it to an institutional repository or publish it in a book), with an acknowledgement of its initial publication in this journal.
3.Authors are permitted and encouraged to post their work online (e.g., in institutional repositories or on their website) prior to and during the submission process, as it can lead to productive exchanges, as well as earlier and greater citation of published work (See The Effect of Open Access).