POTENCY OF MAKASAR FRUIT EXTRACT (Brucea javanica L. Merr) AS AN ANTIBACTERY OF Escherichia coli
Ayu Wulandari

Universitas Samudra

Abdul L. Mawardi
Abstract
The fruit of Makasar (Brucea javanica L. Merr) is a shrub that grows wild in forest areas and is also planted as a hedge plant. This fruit contains antibacterial compounds that inhibit the growth of Escherichia coli bacteria. This study aims to determine the potential for extracts and to determine the concentration of the fruit extract of Makasar (Brucea Javanica L. Merr) which has the potential as antibacterial Escherichia coli. Makasar fruit extract (Brucea javanica L. Merr) was obtained by maceration method using 96% ethanol as solvent. This study uses the disc diffusion method. The parameter measured is the size of the extract inhibition zone. The results analysis One-way ANOVA of the research on the fruit extract of Makasar (Brucea javanica L. Merr) have the potential as an antibacterial agent for Escherichia coli as evidenced by the value of Fcount > Ftable (28.370 > 2.85). The maximum zone of inhibition was at the concentration of P6 (15.33) and the zone of minimal inhibition was at the concentration of P1 (7.33). It can be concluded that the fruit extract of Makasar (Brucea javanica L. Merr) has antibacterial potential with strong criteria at P6 (15,33), P5 (14,47), P4 (14,03), P3 (13,57), and for moderate criteria at P1 (7,33) and P2 (9,17).
References
Abidin, Ropian. 2018. Uji Aktivitas Antibakteri Estrak Daun Jarak Pagar (Jatropha curcas L.) dan Gambir (Uncaria gambir Roxb) Terhadap Bakteri Staphylococcus aureus dan Escherichia coli. Skripsi. UIN Raden Intan, akultas Tarbiyah dan Keguruan, Lampung.
Alviana, Nerissa. 2016. Uji Efektivitas Antibakteri Estrak Etanol Daun Krisan (Crysanthemum morifolium Syn. Dendrathema grandiflora) Terhadap Staphylococcus aureus dan Escherichia coli. Jurnal Skripsi. Universitas Atma Jaya Yogyakarta, Fakultas Teknobiologi Program Studi Biologi, Yogyakarta.
Damayanti, D. 2008. Jenis Tanaman Penggempur Aneka Penyakit. Edisi ke-1. Jakarta: PT Agromedia Pustaka.
Davis, W. Dan Stout, T. R. 1971. Disc plate methods of microbiological antibiotic assay. Microbiology
Fatkhur, H., Rahman, S. Widoyo., H Siswanto., dan Bintoro. (2016). Faktor-Faktor Yang Berhubungan Dengan Kejadian diare di Desa Solor Kecamatan Cermee Bondowoso. Journal Nurseline, 1(1): 25
Helmi, Henny., Susanti, Idha., Noptian Asmara Agung., Dan Sadam Kusen. (2015). Antibacterial Activity of Belilik (Brucea javanica (L.) Merr) and Benta (Wikstromia androsaemofolia Decne) to Inhibition Growth Of Enteropathogenic Bacteria. Journal of Biological Researches, 21(1):35
Hidayat, Syamsul., Dan M., Rodame Napitupulu. 2015. Kitab Tumbuhan Obat: 269 Tumbuhan Berkhasiat Untuk Mengobati Berbagai Penyakit Kelas Ringan Sampai Penyakit Kelas Berat. Jakarta Timur: Agriflo: 70-71
Ifora., Kardela, Widya., dan Yora Maideani. (2019). Uji Aktiitas Antikolestrol Estrak Etanol Buah Malur (Brucea javanica (L.) Merr) Terhadap Mencit Putih Jantan Hoperkolestrolemia. Jurnal Farmasi Higea, 11(1): 2.
Ilfani, Eva., Wilson, Wildiani., dan M. Evy Prastiyanto. (2019). Uji Antibakteri Etanol Biji Pepaya (Carica Papaya L.) Terhadap Pertumbuhan Escherichia coli. Prosiding Seminar Nasional Unimus, Volume 2. ISSN: 2654-766X
Jacob, Jois Moriani., Dan Yanne, Yanse R. (2020). Identifikasi Metabolit Sekunder Brucea javanica (L) Merr Di Pulau Timor Melalui Uji Fitokimia. Jurnal Kajian Veteriner, 8(1): 43-53
Jawetz, E., Melnick, J.L., dan Adelberg, E.A. 2007. Mikrobiologi Kedokteran. Jakarta: Salemba Medika.
Karlina, Cristie Yudha., M. Ibrahim., dan G. Trimulyono. (2013). Aktivitas Antibakteri Ekstrak Herba Krokot (Potulaca oleracea L.) Terhadap Staphylococcus aureus dan Escherichia coli. Jurnal Lentera Bio, 2(1):87–93
Krisna, Amalia Dewi. (2013). Isolasi, Identifikasi dan Uji Sensitivitas Staphylococcus aureus terhadap Amoxicillin dari Sampel Susu Kambing Peranakan Ettawa (PE) Penderita Mastitis Di Wilayah Girimulyo, Kulonprogo, Yogyakarta. Jurnal Sain Veteriner, 31(2): 138-150
Masyhud. 2010. Lokakarya Nasional Tumbuhan obat Indonesia. http://www.dephut.go.id//index.php/news/details/7043, diakses pada tanggal 7 Oktober 2019
Monalisa, D., Handayani, T., dan Sukmawati. (2011). Uji Daya Antibakteri Estrak Daun Tapak Liman (Elephantopus scaber L.) Terhadap Staphylococcus aureus dan Salmonella typhi. Jurnal Bioma, 9(2): 13-20
Mutschler, E. 1991. Dinamika obat Edisi kelima. Bandung: Penerbit IPB
Purwanto, Sigit. (2015). Uji Efektivitas Antibakteri Fraksi Aktif Estrak Daun Senggani (Melastoma malabatrhricum L.) Terhadap Escherichia coli. Jurnal keperawatan sriwijaya, 2(2): 87-91
Soebandrio, WK. A. 1995. Kemoterapi Antimikroba. Universitas Indonesia: FMIPA
Sunanda, Rizal., Hasanuddin., Dan Cut Nurmaliah. (2020). Etnobotani Pada Masyarakat Kecamatan Setia Bakti Kabupaten Aceh Jaya. Jurnal Mahasiswa Fakultas Keguruan Dan Ilmu Pendidikan UNSYIAH, 5(1): 326
Suprianto., dan Anda Rini, A. (2018). Uji Fitokimia dan Antibakteri Estrak Etanol Buah Kawista (Limonia acidissima L.) pada Bakteri Escherichia Coli. Prosiding SemNas Pendidikan Biologi. ISBN:978-602-61265-2-8
Susanto, Sudrajat., dan Ruga, R. (2012). Studi Kandungan Bahan Aktif Tumbuhan Meranti Merah (Shorea leprosula Miq) Sebagai Sumber Senyawa Antibakteri. Jurnal Mulawarman Scientifie, 11(12): 181-190
Tuntun, Maria. (2016). Uji Efektivitas Ekstrak Daun Pepaya (Carica Papaya L.) Terhadap Pertumbuhan Bakteri Escherichia Coli Dan Staphylococcus Aureus. Jurnal Kesehatan 7 (3): 497-502.
Tammi, Alfan. 2015. Aktifitas Antibakteri Buah Makasar (Brucea javanica) terhadap Pertumbuhan Staphylococcus aureus. Jurnal Agromed Unila, 2 (2): 100-101
Wahyuni, Lara Sofhy. 2014. Uji Aktivitas Antibakteri Estrak Kubis (Brassica oleraceae L. Var Capitata L.) Terhadap Bakteri Escherichia coli. Skripsi. UIN Syarif Hidayatullah, Fakultas Kedokteran Dan Kesehatan, Program Studi Pendidikan Kedokteran, Jakarta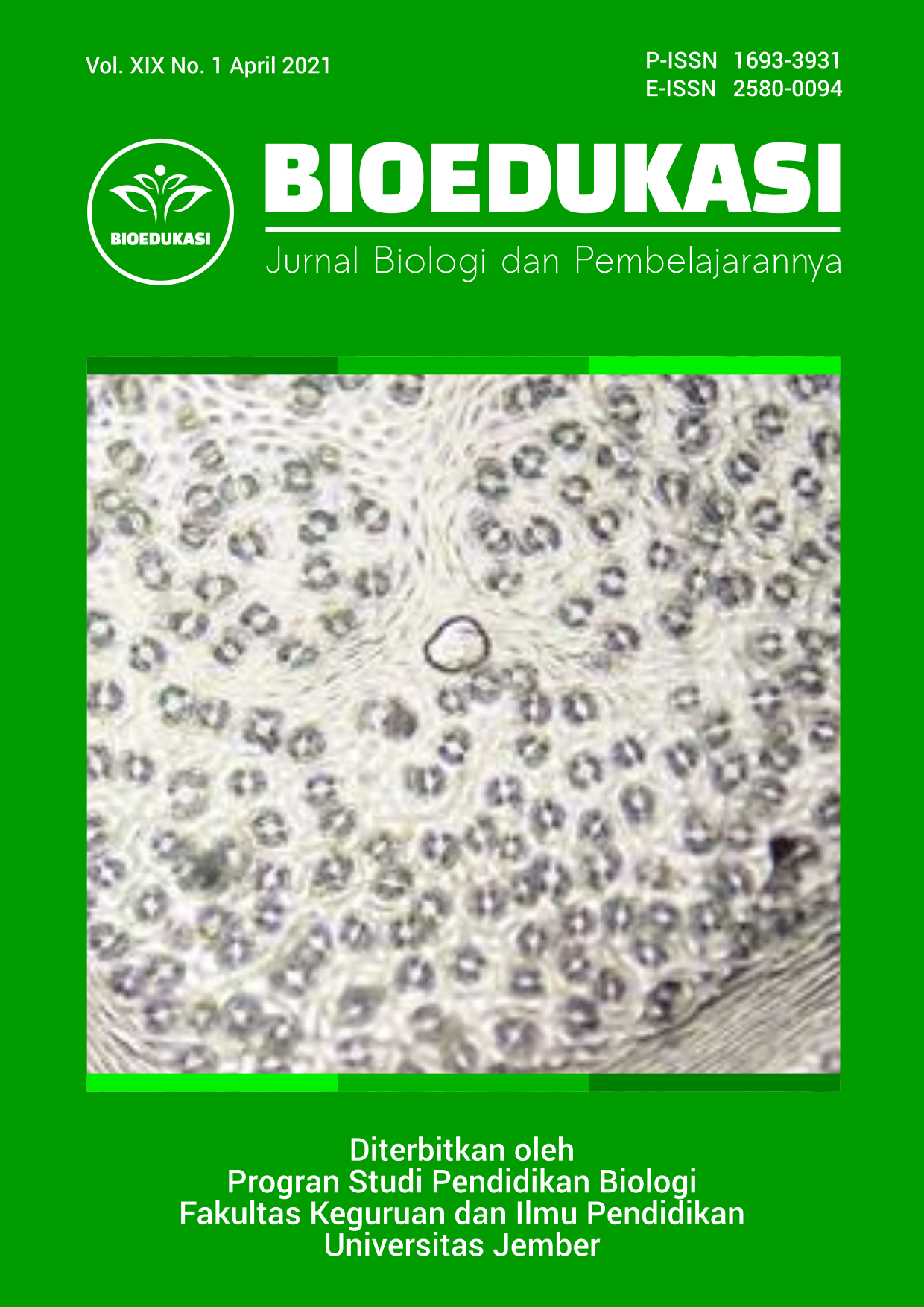 This work is licensed under a Creative Commons Attribution-NonCommercial-NoDerivatives 4.0 International License.