Current Issue
Vol 16 No 1 (2022): Warta Pengabdian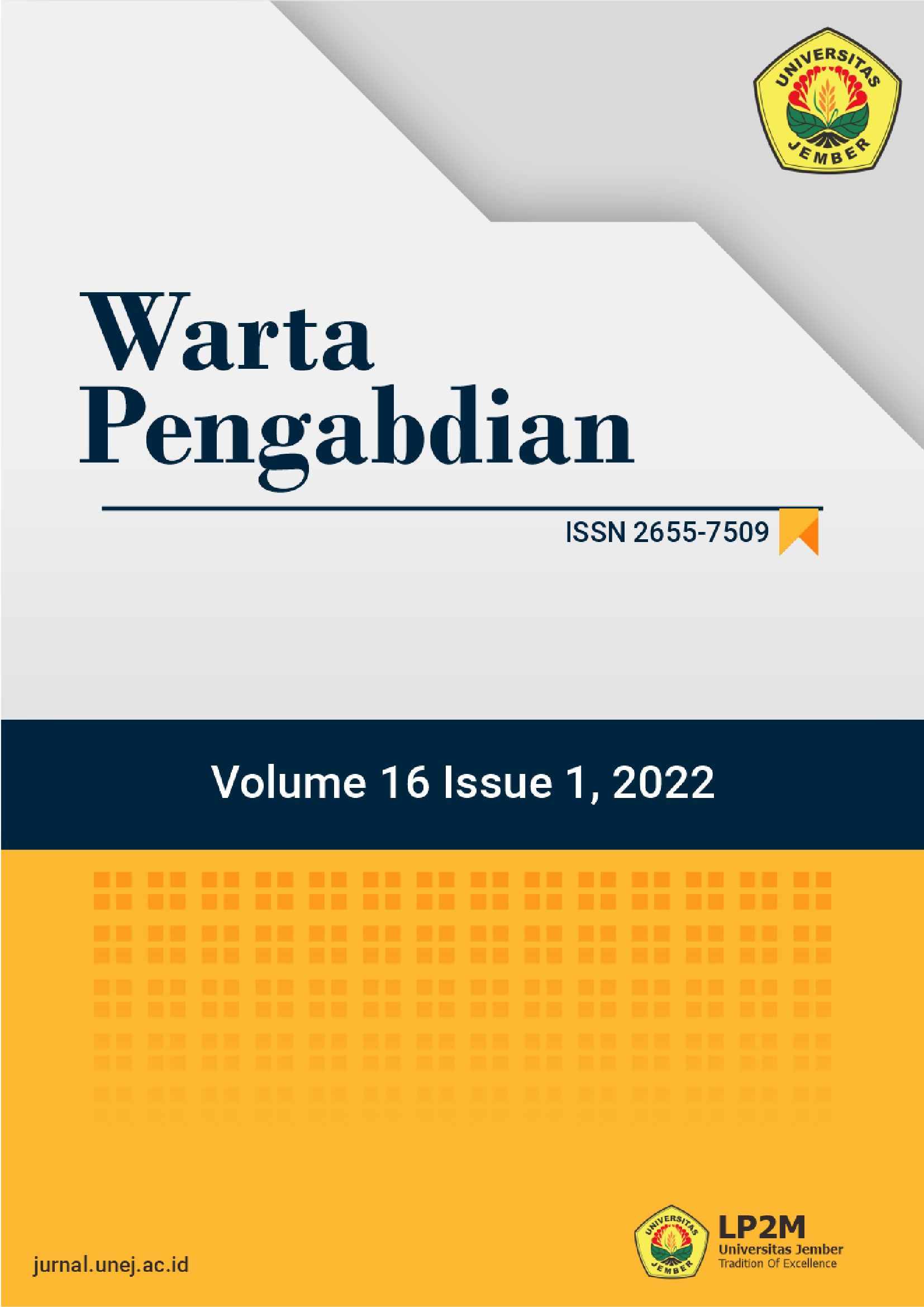 ISSN : 2655-7509

Editor in Chief : Dr. Rosnida Sari

Warta Pengabdian is a journal that is managed and published by the Institute for Research and Community Service (LP2M) and The Center for Human Rights, Multiculturalism, and Migration (CHRM2), University of Jember. Under the auspices of the University of Jember, this journal has a vision to become a leading institution in the development of environmentally sound science, technology and art, business and industrial agriculture for the welfare of society. In line with its mission, this journal is an institution's output as well as a forum that contains scientific articles (research and multidisciplinary service) written by researchers and academics who focus on service and advocacy. Warta Pengabdian is expected to improve communication that encourages critical discussions between researchers, policy makers (decision makers) and the public in general regarding things that are happening around them.
View All Issues
WARTA PENGABDIAN merupakan jurnal yang dikelola dan diterbitkan oleh Lembaga Penelitian dan Pengabdian kepada Masyarakat (LP2M). Di bawah naungan Universitas Jember, jurnal ini memiliki visi untuk menjadi sebuah lembaga unggulan dalam pengembangan sains, teknologi, dan seni berwawasan lingkungan, bisnis dan pertanian industrial untuk kesejahteraan masyarakat. Seturut dengan misinya, jurnal ini merupakan luaran lembaga sekaligus wadah yang memuat artikel-artikel ilmiah (penelitian dan pengabdian multidispliner) yang ditulis oleh para peneliti dan akademisi di lingkungan Universitas Jember. Warta Pengabdian diharapkan dapat meningkatkan komunikasi yang mendorong adanya diskusi yang kritis antara para peneliti, pembuat kebijakan (decision maker) dan masyarakat secara umum terkait hal-hal yang terjadi di sekitar mereka.