MULAN'S GREAT UPWARD DRIVE TOWARD ANDROCENTRISM IN MULAN IN DISNEY BELOVED TALES BY JANE BRIERLY, ROBYN BRYANT AND STEPHANIE WERNER
Erna Dwi Listiari

Sutarto Sutarto

Supiastutik Supiastutik
Abstract
This paper seeks to outline the representation of woman character specifically in using her drive in responding
to androcentrism in Mulan in Disney Beloved Tales. It is one of short stories written by Jane Brierly, Robyn
Bryant and Stephanie Werner and published in 2001 in Canada. The androcentrism undergone by woman main
character will be discussed. The great upward drive will be discussed and related to the woman main
character's response to androcentrisms. This will be placed in the context of woman representation in literary
works. The approaches used in this discussion are feminist and psychological approach. Feminist approach is
used to know the woman character's position in the story and how she is represented. Psychological approach is
used to know the psychological state and the response of the main character toward the androcentrisms in the
story . The method of the study used in this thesis is deductive method from the general discussion to the specific
discussion. The data are collected through library and cyber research. The result of the research shows that
Mulan, the main woman character experiences three kinds of androcentrisms namely woman for reproduction,
ethical concept and warfare. She uses her great upward drive in responding the three androcentrisms. The
representation of Mulan is made very positively that gives good values about woman character in the literary
work.
Keywords: great upward drive, tales, Mulan, feminist critique, androcentrism, patriarchy.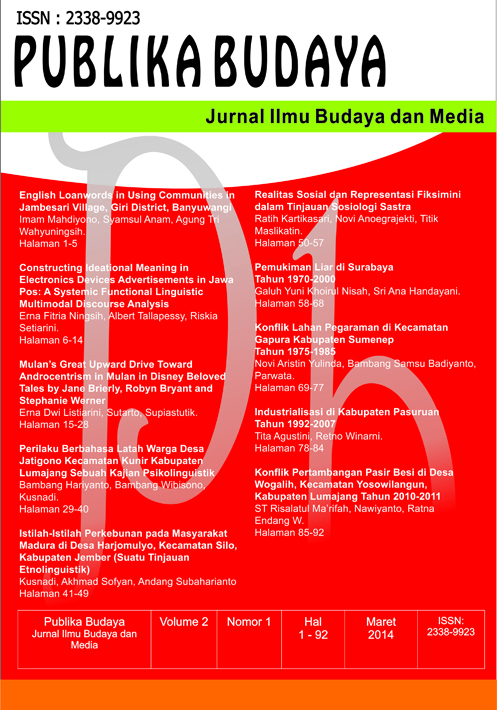 How to Cite
LISTIARI, Erna Dwi; SUTARTO, Sutarto; SUPIASTUTIK, Supiastutik. MULAN'S GREAT UPWARD DRIVE TOWARD ANDROCENTRISM IN MULAN IN DISNEY BELOVED TALES BY JANE BRIERLY, ROBYN BRYANT AND STEPHANIE WERNER.
Publika Budaya
, [S.l.], v. 2, n. 1, p. 15-28, apr. 2014. ISSN 2338-9923. Available at: <
https://jurnal.unej.ac.id/index.php/PB/article/view/576
>. Date accessed: 31 mar. 2020.
Penulis yang mengusulkan naskahnya untuk dapat diproses penerbitannya pada Pustaka Budaya dianggap telah menyetujui beberapa hal sebagai berikut:
1. Penulis tidak dapat menarik naskah yang telah usulkan untuk diproses hingga mendapat jawaban dari Ketua Dewan Penyunting atas status naskah artikel ilmiahnya (diterima atau ditolak untuk diterbitkan).
2. Penerbit tidak bertanggung jawab terhadap kasus plagiasi atas artikel yang terbit pada Pustaka Budaya.
3. Penerbit tidak bertanggung jawab atas data dan isi dari artikel yang diterbitkan pada Pustaka Budaya, dan sepenuhnya merupakan tanggung jawab penulis.
4. Penulis yang artikelnya diterbitkan pada Publika Budaya menyetujui lisensi berikut:
Publika Budaya by
University of Jember
is licensed under a
Creative Commons Attribution-NonCommercial 4.0 International License
.