Hubungan Persepsi tentang Kesesuaian Harapan Orang Tua dengan Diri dalam Pilihan Studi Lanjut dengan Tingkat Stres pada Siswa Kelas XII di Kabupaten Jember (The Correlation Perceptions about The Suitability of Parental Expectation in the Choice of Further
Dita Dityas Hariyanto

Program Studi Ilmu Keperawatan, Universitas Jember, Jl Kalimantan No: 37, Jember

Erti Ikhtiarini Dewi

Program Studi Ilmu Keperawatan, Universitas Jember, Jl Kalimantan No: 37, Jember

Latifa Aini Susumaningrum

Program Studi Ilmu Keperawatan, Universitas Jember, Jl Kalimantan No: 37, Jember
Abstract
Career planning is one of the final tasks of adolescent development. Involvement of parents in the determination of adolescent career will raise parental expectations on teenagers. Parental expectations are too high on adolescent career can affect the perception of youth. Adolescents who perceive as pressure will cause stress in teens. This research aimed to determine the correlation of perception about the suitability of parental expectations in the further study options with the level of stress in class XII in Jember. This research uses observational analytic design with cross sectional design with a sample of 76 respondents. Sampling technique used is purposive sampling. Collecting data using questionnaires and analyzed using chi square test. Statistical analysis showed that the p value is 0.011 and α = 0.05 so that the p value is smaller than α, which means that there is a relationship between the perception about the suitability of parental expectations in the choice of further studies with the stress levels of class XII students in district Jember.
Keywords: parental expectation, stress levels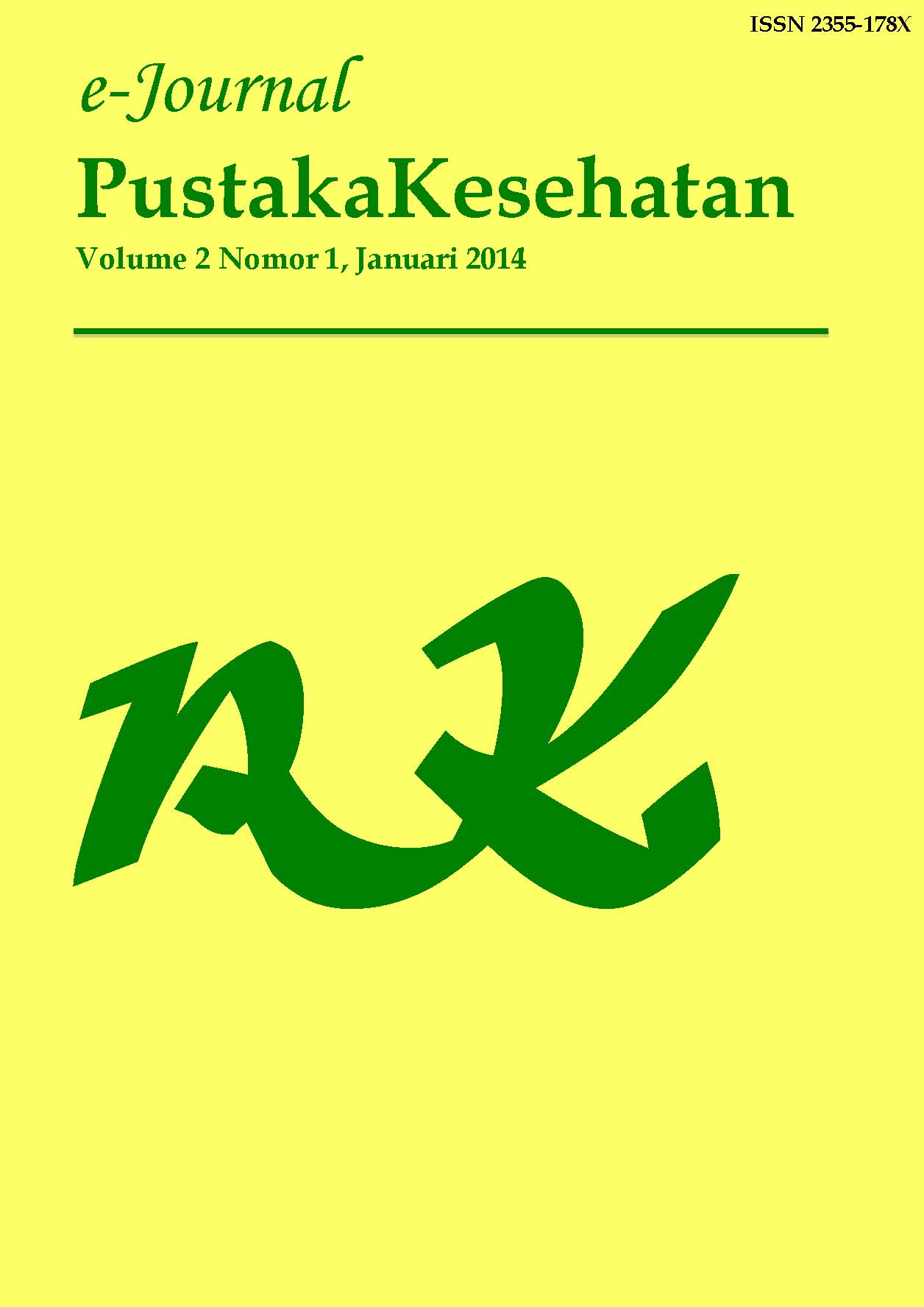 How to Cite
HARIYANTO, Dita Dityas; DEWI, Erti Ikhtiarini; SUSUMANINGRUM, Latifa Aini. Hubungan Persepsi tentang Kesesuaian Harapan Orang Tua dengan Diri dalam Pilihan Studi Lanjut dengan Tingkat Stres pada Siswa Kelas XII di Kabupaten Jember (The Correlation Perceptions about The Suitability of Parental Expectation in the Choice of Further.
Pustaka Kesehatan
, [S.l.], v. 2, n. 1, p. 125-131, jan. 2014. ISSN 2355-178X. Available at: <
https://jurnal.unej.ac.id/index.php/JPK/article/view/608
>. Date accessed: 29 may 2020.
Penulis yang mengusulkan naskahnya untuk dapat diproses penerbitannya pada Pustaka Kesehatan dianggap telah menyetujui beberapa hal sebagai berikut:
1. Penulis tidak dapat menarik naskah yang telah usulkan untuk diproses hingga mendapat jawaban dari Ketua Dewan Penyunting atas status naskah artikel ilmiahnya (diterima atau ditolak untuk diterbitkan).
2. Penerbit tidak bertanggung jawab terhadap kasus plagiasi atas artikel yang terbit pada Berkala Ilmiah Pertanian.
3. Penerbit tidak bertanggung jawab atas data dan isi dari artikel yang diterbitkan pada Pustaka Kesehatan, dan sepenuhnya merupakan tanggung jawab penulis.