Kemampuan Antagonistik Beberapa Isolat Pseudomonad Fluoresen Terhadap Bakteri Ralstonia Solanacearum Penyebab Penyakit Layu Pada Tanaman Tomat
Yenny WURYANDARI

Fakultas Pertanian Universitas Pembangunan Nasional "Veteran" Surabaya

Arika PURNAWATI

Fakultas Pertanian Universitas Pembangunan Nasional "Veteran" Surabaya

Triwidodo ARWIYANTO

Fakultas Pertanian Universitas Gadjah Mada. Yogyakarta

Bambang HADISUTRISNO

Fakultas Pertanian Universitas Gadjah Mada. Yogyakarta
Abstract
Bacterial Wilt disease (Ralstonia solanacearum) is a main problem in tomato plant.
Controls of it have been optimum success yet. Control of it using certainly pseudomonad fluorescent
strain can pressure plant disease developments which cause soil pathogen.The aim of the research, get
pseudomonad fluorescent from tomato rizosfer which can inhibit of wilt bacteria disease Ralstonia
solanacearum. Research methods are isolation and identification of pathogen bacteria and
antagonistic bacteria. Biological control agents candidate selection was done with antagonistic in
vitro and inhibit mechanism test. The Research show; there is wilt symptom in tomato areal at Wajak
Malang. From isolation get Ralstonia solanacearum bacteria with identity white coloni, fluidal,
irregular shape in YPGA media and high virulensi. From tomato rizosfer soil isolation in the same
areal get 130 isolate of pseudomonad fluorescent in King's B media. Antagonistec test in vitro to it
isn't of all bacteria can inhibit Ralstonia solanacearum growing. From them which was tested, get
variation of inhibit zona from 4 mm until more than 30 mm. More of inhibit mechanism is
bacteriostatic and only many is bacterisida.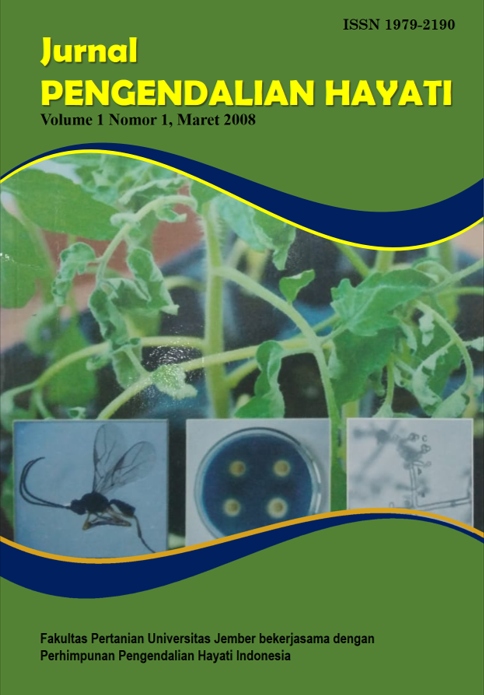 How to Cite
WURYANDARI, Yenny et al. Kemampuan Antagonistik Beberapa Isolat Pseudomonad Fluoresen Terhadap Bakteri Ralstonia Solanacearum Penyebab Penyakit Layu Pada Tanaman Tomat.
Jurnal Pengendalian Hayati
, [S.l.], v. 1, n. 1, p. 1-5, mar. 2008. ISSN 2721-7701. Available at: <
https://jurnal.unej.ac.id/index.php/JPH/article/view/3
>. Date accessed: 14 aug. 2020.
Keywords
Key word: Pseudomonad fluorescent, Ralstonia solanacearum
Authors who publish with this journal agree to the following terms:


Authors retain copyright and grant the journal right of first publication with the work simultaneously licensed under a Creative Commons Attribution License that allows others to share the work with an acknowledgement of the work's authorship and initial publication in this journal.


Authors are able to enter into separate, additional contractual arrangements for the non-exclusive distribution of the journal's published version of the work (e.g., post it to an institutional repository or publish it in a book), with an acknowledgement of its initial publication in this journal.


Authors are permitted and encouraged to post their work online (e.g., in institutional repositories or on their website) prior to and during the submission process, as it can lead to productive exchanges, as well as earlier and greater citation of published work.