Current Issue
Vol 1 No 2 (2021): July-December 2021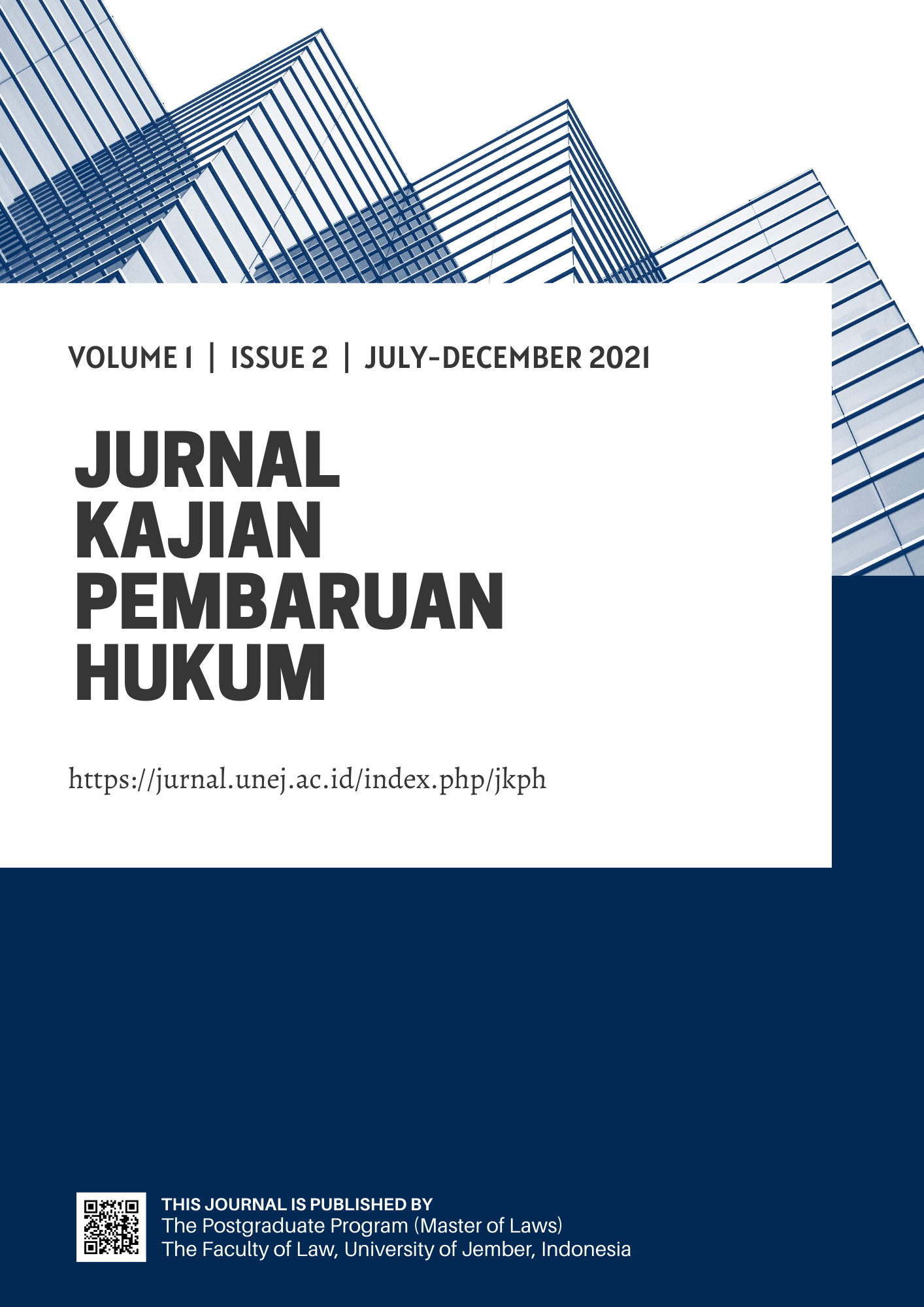 ISSN: 2776-9828 (Online)
First Publication: 2021
Language: Indonesian and English
Publisher: Master's Program at the Faculty of Law, University of Jember
Duration: Approx. 60 days of submission to decision
Frequency: 2 issues per year
Acceptance Rate: 30% of the total submissions
DOI: 10.19184/jkph
Audience: Scholars and practitioners with an acute interest in law reform
View All Issues
| | |
| --- | --- |
| | |
| Journal title | : Jurnal Kajian Pembaruan Hukum |
| ISSN | : 2776-9828 (Online) |
| First Publication | : 2021 |
| Languages | : Indonesian and English |
| Publisher | : Master's Program at the Faculty of Law, University of Jember |
| Frequency | : 2 issues per year |
| Duration | : Approx. 60 days of submission to decision |
| DOI | : 10.19184/jkph |
| Acceptance Rate | : 30% of the total submissions |
| | |
Announcements
Call for Papers
Posted: 2021-09_09
Jurnal Kajian dan Pembaruan Hukum invites new submissions for Volume 2 Issue 1 (January-June 2022) that will be published in January 2022. Please read the Instructions for Authors page for more information on manuscript submissions, and submit your manuscript by or before November 15th, 2021.
About
Jurnal Kajian Pembaruan Hukum (ISSN 2776-9828) is a refereed law journal published by the postgraduate program (Master of Laws) of the University of Jember, Indonesia. The publication in this journal focuses on the studies in law reform under doctrinal, empirical, socio-legal, and comparative approaches. The journal welcomes all submissions about constitutional law, criminal law, private law which emphasize the new perspectives for displaying and opening an intimate knowledge into the way they work in practice.
Manuscript submissions should be between 7,000-10,000 words in length, although shorter papers relating to policy analysis and debate will be considered. The peer-review process and decision on publication will normally be completed within 60 days of receipt of submissions. Please see our Instructions for Authors for information on manuscript submission. If you require any further information or help, please visit our Support Center.

All articles published in JURNAL KAJIAN PEMBARUAN HUKUM are licensed under a Creative Commons Attribution-ShareAlike 4.0 International License.