The Effects of Oxygen Content, Deposition Rate and Annealing Towards Thin Film of Indium Tin Oxide
Abstract
Indiun tin oxide is one of the materials that has physical properties, rarely seen in other materials. Indium tin oxide properties have the main role in developing the technology of thin film shown through its properties. Therefore, many people study on it since its widespread application to the technological industries. Coating process was carried out by mixing 90 % of In2O3 and 10 % SnO2 on the glass substrate by means of sputtering. During the process of oxygen was added 2.50%, 3.70%, 5,10%, 6.15% and 8.90%. The deposition rate was respectively 4.21 nm/s and 2.25 nm/s. The Indium tin oxide for each condition was annealed at 175oC and 250oC in a vacuum of 10-3 mBarr for 60 minutes. and the micro structure using the x-ray diffraction. Oxygen conten, deposition rate and annealing resulted in the changes of microstructure of indium tin oxide. These changes are mostly resulted from the changes in microstructure such as grain size and lattice constant.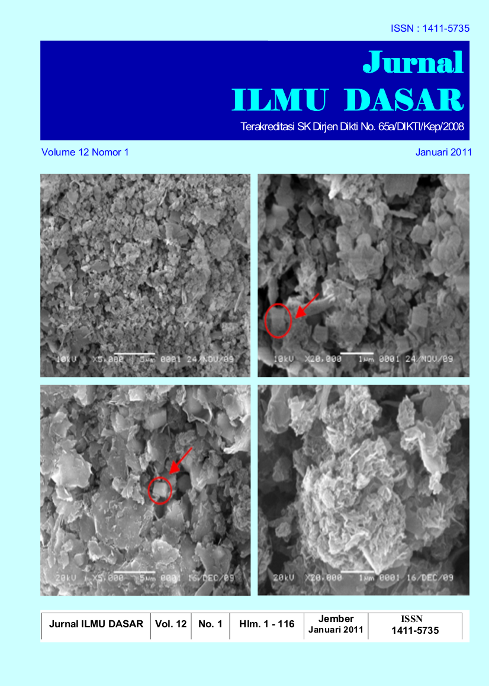 How to Cite
MUSLIMIN, Muslimin. The Effects of Oxygen Content, Deposition Rate and Annealing Towards Thin Film of Indium Tin Oxide.
Jurnal ILMU DASAR
, [S.l.], v. 12, n. 1, p. 57-61, jan. 2012. ISSN 2442-5613. Available at: <
https://jurnal.unej.ac.id/index.php/JID/article/view/355
>. Date accessed: 11 apr. 2020.
Keywords
Deposition rate; oxygen content; annealing; microstructure