APLIKASI EKSTRAK KASAR POLISAKARIDA LARUT AIR BIJI DURIAN (Durio zibethinus Murr) PADA PEMBUATAN KECAP MANIS AIR KELAPA
Herlina Herlina

Jurusan Teknologi Hasil Pertanian, Fakultas Teknologi Pertanian, Universitas Jember

Sukatiningsih Sukatiningsih

Jurusan Teknologi Hasil Pertanian, Fakultas Teknologi Pertanian, Universitas Jember

Rekti Viony Amalia

Jurusan Teknologi Hasil Pertanian, Fakultas Teknologi Pertanian, Universitas Jember
Abstract
Durian seeds contain mucus which is water-soluble polysaccharides (WSP) that is both hydrocolloids. Hydrocolloid material can improve the quality of food products in terms of viscosity, stability, texture, and appearance. Crude extract WSP contain high protein by 19,984 % db. High level protein in crude extract WSP durian seeds can produce the physico-chemical properties, especially as a thickener and stabilizer for coconut water sauce. The purpose of this research is know the influence of the addition crude extract WSP from durian seeds for physical and sensory of coconut water sauce and get better formulation which favored. This research is application of crude extract WSP for coconut water sauce production. The concentration of the addition of crude extract WSP is 0 % (T0), 0.1 % (T1), 0.2 % (T2), 0.3 % (T3), and 0,4 % (T4) for each treatment. The result of analysis indicates that the addition of crude extract WSP showing real influence on viscosity, total dissolved solids, and sensory properties. The addition of crude extract WSP showing not real influential for color intensity (chroma) and lightness. The addition of crude extract precise in manufacture of coconut water sauceis the treatment T2 based on the storage stability test for 4 weeks, with a viscosity value of 85.05 mp; 0Brix 67.67 total dissolved solids; 19.89 chroma color intensity; and lightness 41.34o. The addition ofcrude extract WSP durian seeds favored by organoleptic tests at weeks-0 is the T4 treatment with avalue of aroma, flavor, and color are respectively 3.44; 3.92; and 3.84 (hedonic scale rather like to like). Viscosity value sand over all impression are respectively 4.40 and 4.16 (hedonic scale like to really like).
Keywords: durian seeds, water-soluble polysaccharides, hydrocolloids, coconut water sauce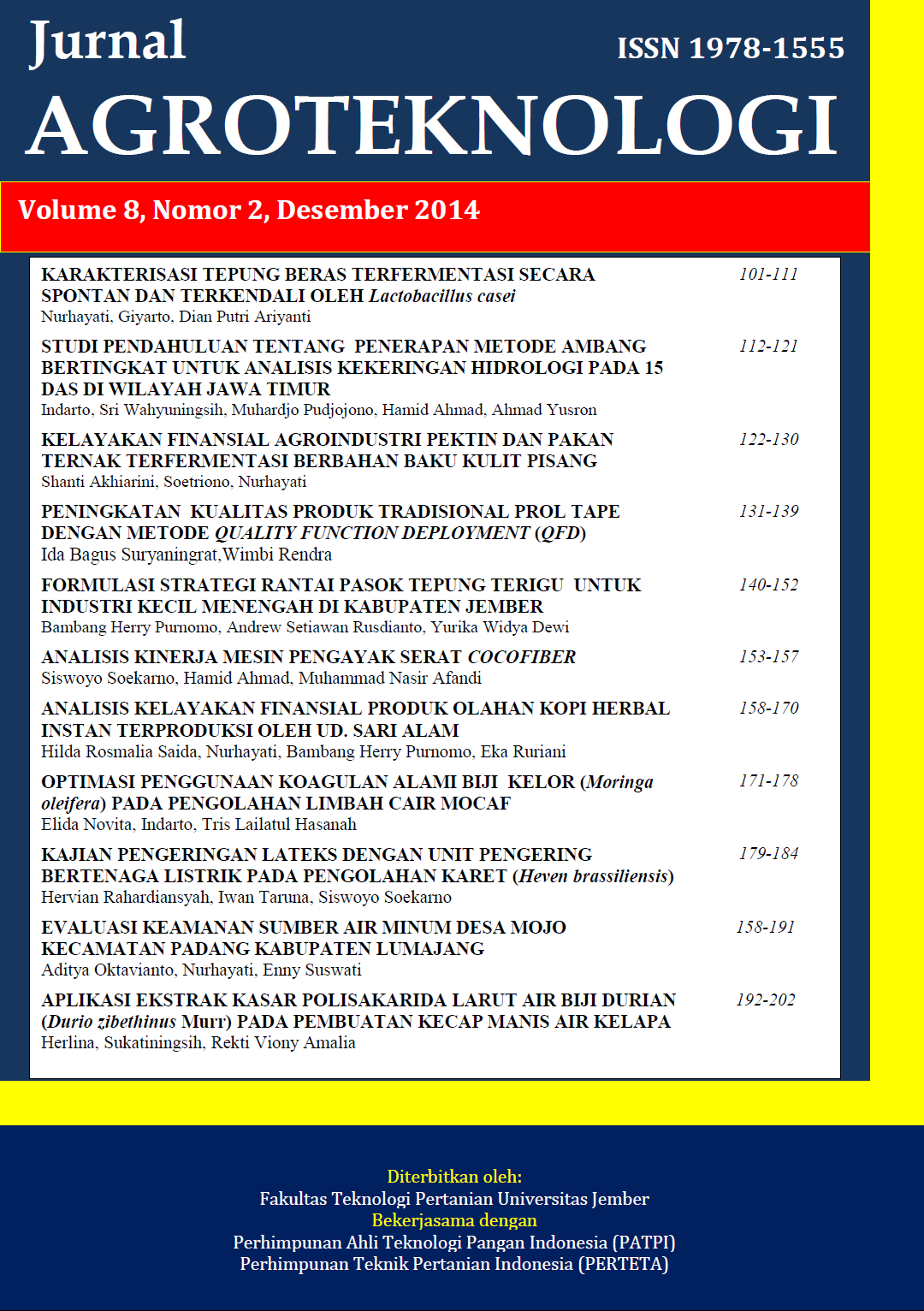 How to Cite
HERLINA, Herlina; SUKATININGSIH, Sukatiningsih; AMALIA, Rekti Viony. APLIKASI EKSTRAK KASAR POLISAKARIDA LARUT AIR BIJI DURIAN (Durio zibethinus Murr) PADA PEMBUATAN KECAP MANIS AIR KELAPA.
JURNAL AGROTEKNOLOGI
, [S.l.], v. 8, n. 02, p. 192-202, dec. 2014. ISSN 2502-4906. Available at: <
https://jurnal.unej.ac.id/index.php/JAGT/article/view/3180
>. Date accessed: 25 sep. 2020.

Under Liscense of Creative Commons Attribution - ShareAlike 2.0 Generic (CC BY-SA 2.0)