KARAKTERISTIK BUBUK TANDAN PISANG DARI EMPAT VARIETAS DAN POTENSI PEKTINNYA SEBAGAI MEDIA PERTUMBUHAN Lactobacillus acidophilus
Nurhayati Nurhayati

Jurusan Teknologi Hasil Pertanian, Fakultas Teknologi Pertanian, Universitas Jember

Prasetyo Dwi Laksona

Jurusan Teknologi Hasil Pertanian, Fakultas Teknologi Pertanian, Universitas Jember

Sukatiningsih Sukatiningsih

Jurusan Teknologi Hasil Pertanian, Fakultas Teknologi Pertanian, Universitas Jember
Abstract
Banana bunches is a waste of banana plants that are less utilized optimally. The banana bunches can be extracted the pectin that are a soluble polar polysaccharide that is soluble in polar solvents. The purpose of this study was to determine the characteristics of the powder bunches of bananas from four varieties (bananas kepok, regal, cavendish and mas), the yield of pectin extracted and its potential as a medium for the growth of Lactobacillus acidophillus. Parameters observed whiteness, water content, content of pectin powder banana bunches and bunches of banana powder content of polyphenols, as well as test the potential of pectin as a growing medium for probiotics (L. acidophilus). The results showed that the different varieties of bananas that produce whiteness, water content, levels of pectin, polyphenols levels and population growth of L. acidophilus diverse. The highest water content contained in the powder bunches cavendish. Whiteness (whiteness) is highest in bunches kepok powder. The yield of pectin powder is highest in bunches mas is 9.35%, while the yield of pectin powder glorious bunches of bananas, cavendish kepok and consecutively is 7.65%; 7.14%; and 4.89%. Different varieties of banana produce percentage growth of L. acidophilus bacteria that baragam anyway. Percentage of the population of probiotic L. acidophillus powder kepok bunches of 16.79% (higher) than the powder bunches mas (14.32%), Cavendish (12.49%) and the sublime (4.76%). It is concluded that pectin from banana bunches kepok showed better potential for use as a growing medium of L. acidophilus.

Keywords: banana bunches, L. acidophilus, pectin,probiotic population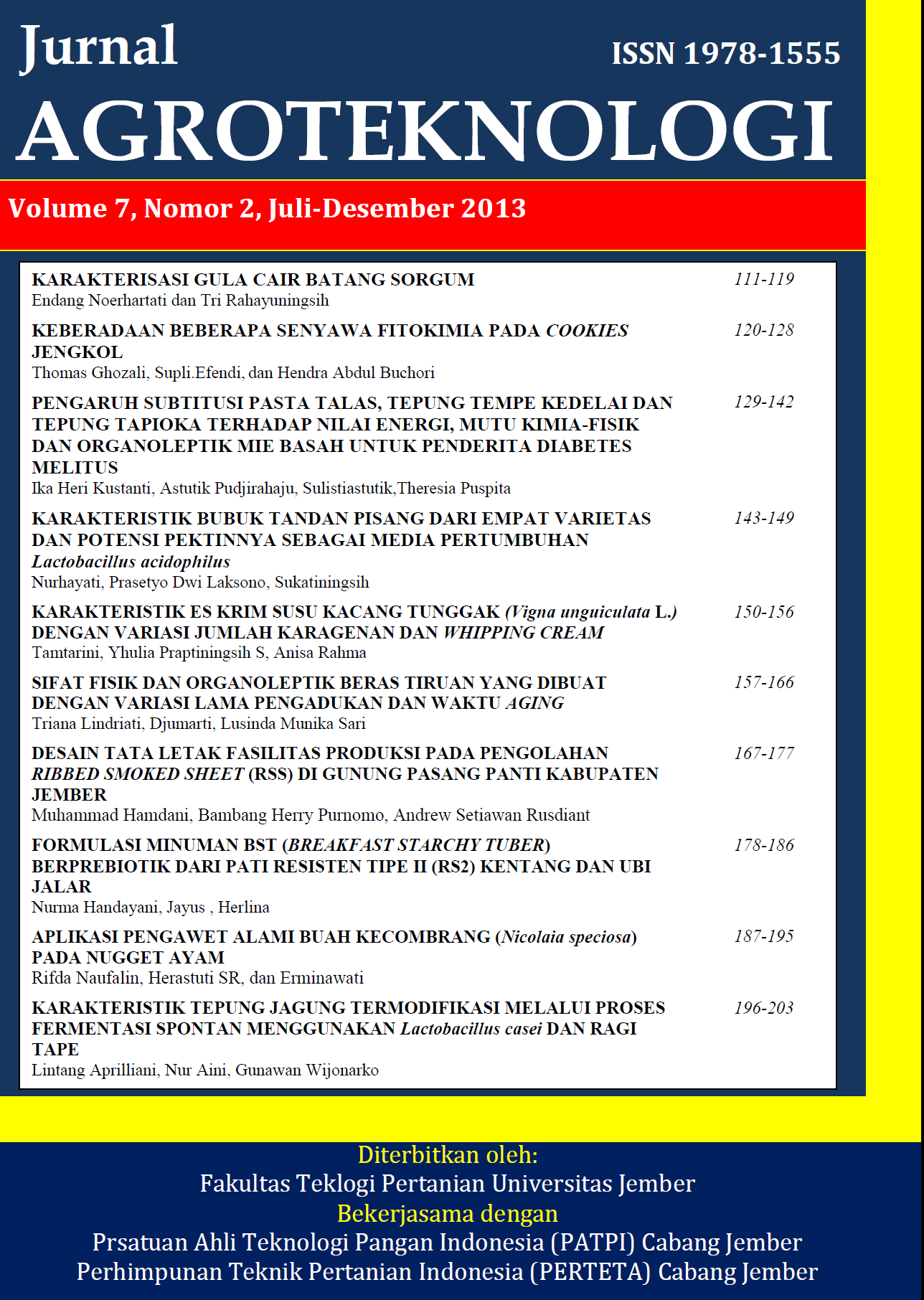 How to Cite
NURHAYATI, Nurhayati; LAKSONA, Prasetyo Dwi; SUKATININGSIH, Sukatiningsih. KARAKTERISTIK BUBUK TANDAN PISANG DARI EMPAT VARIETAS DAN POTENSI PEKTINNYA SEBAGAI MEDIA PERTUMBUHAN Lactobacillus acidophilus.
JURNAL AGROTEKNOLOGI
, [S.l.], v. 7, n. 02, p. 143-149, june 2013. ISSN 2502-4906. Available at: <
https://jurnal.unej.ac.id/index.php/JAGT/article/view/2782
>. Date accessed: 05 june 2020.

Under Liscense of Creative Commons Attribution - ShareAlike 2.0 Generic (CC BY-SA 2.0)