ANALISIS VARIABEL YANG BERPENGARUH TERHADAP RELATIONSHIP INTENTION DEBITUR BANK SUMUT CABANG UTAMA MEDAN
Abstract
The objective of the research was tested the effect of economiccontent, resource content, and social content toward trust, satisfaction andcustomer commitment as well as relationship intention of Bank Sumut branchoffice Medan. The population was debtors of Bank Sumut branch office Medanwho took its product for business activities. The purposive sampling methodwas used to determine the samples. The technical analysis applied to test theresearch hypothesis was Structural Equation Modeling (SEM). The result of theresearch prevailed that there were positive and significant relationships amongeconomic content and trust, economic content and satisfaction, resourcecontent and trust, resource content and satisfaction, social content and trust,social content and satisfaction, trust and commitment, satisfaction andcommitment, and commitment and relationship intention.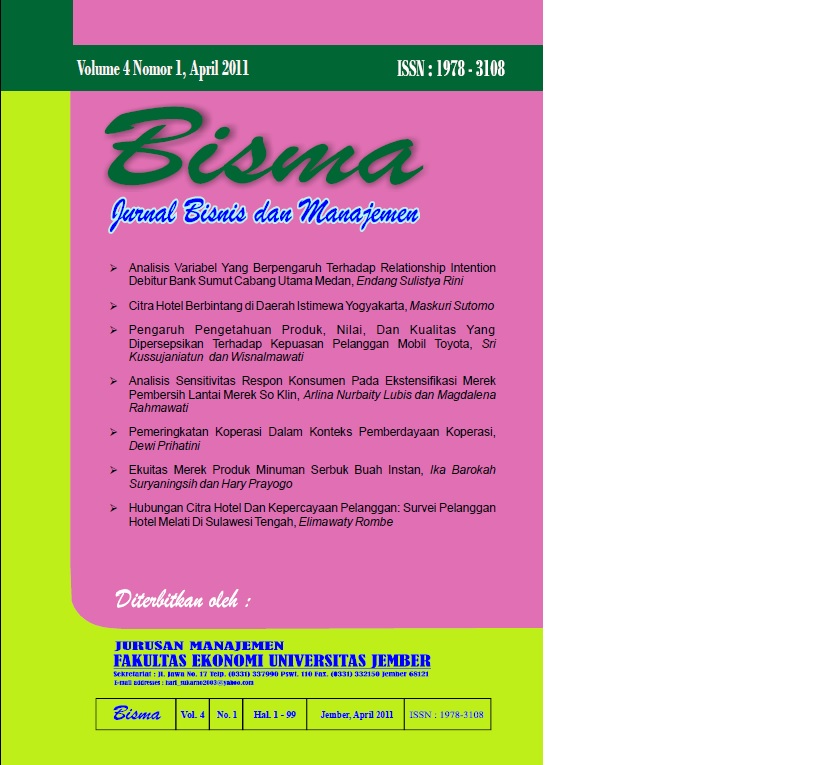 How to Cite
RINI, Endang Sulistya. ANALISIS VARIABEL YANG BERPENGARUH TERHADAP RELATIONSHIP INTENTION DEBITUR BANK SUMUT CABANG UTAMA MEDAN.
BISMA: Jurnal Bisnis dan Manajemen
, [S.l.], v. 5, n. 1, apr. 2011. ISSN 2623-0879. Available at: <
https://jurnal.unej.ac.id/index.php/BISMA/article/view/40
>. Date accessed: 05 dec. 2021.